Sai Vichaar
---
Feb 03, 2000
Volume 2, Issue 37

---

1.Feature of the Week: Philosophy of Idol Worship
2.Experiences of Devotees
3.Devotees Say
4.Prayer Club
5.Question of the Week
6.From the Editor's Keyboard
7.Subscribe to Sai Vichaar
8.Disclaimer

---
From the Editor's Keyboard...
Sai Vichaar would like to recall the Naga Sai project by Baba Prayer Center, Chennai. By Saiís grace, Naga Sai was installed at Coimbatore Saibaba Temple in Tamil Nadu, India. These pictures were posted in SaiVichaar. Please refer to Sai Vichaar Volume 2, Numbers 35 and 36 for viewing the pictures. Poor feeding is a very dear activity to Sadguru Sainath. It is in this context, Baba prayer center is proposing a Poor feeding project. Please refer to Sai Activities section for particulars. If devotees are interested to know further details, please write to Baba Prayer Center, 6/1, Papni Apartments, 67th street, Eleventh Avenue, Ashok Nagar, Chennai-600083, India, Phone: 91-044-4892259 email contact: Bharathan at kbxy@hotmail.com.
Sai Vichaar appreciates its readers and devotees for their continued support. Suggestions, comments, and guidance are sincerely welcome. Please write to the web site administrator about your feedback. Devotees and readers, who wish to contribute features to Sai Vichaar, please send your contributions via email to the web site administrator. Please mention "For Sai Vichaar" in the subject area. The material may include features for the week, suggestions on suitable topics for the "Feature of the week" or "Question of the week" or any other material related to the Life and teachings of Sadguru Sainath of Shirdi.
Sai Vichaar also wishes to inform its readers who have made requests for subscription changes that due to software upgrades, there is a delay in processing their requests and the changes will be done in the next few days.
Question of the week for this week is
"How does a Sai devotee define truthfulness in devotion?"
Humbly yours,
The Editor

---
Disclaimer
Sai Vichaar is devoted to the philosophy and teachings of Shri Sadguru Sai Baba of Shirdi, and will take every measure to avoid topics or themes contradicting the same.
Sai Vichaar team or the Shirdi Sai Baba web site organization is not responsible for the opinions expressed by individual contributors.


Back to Menu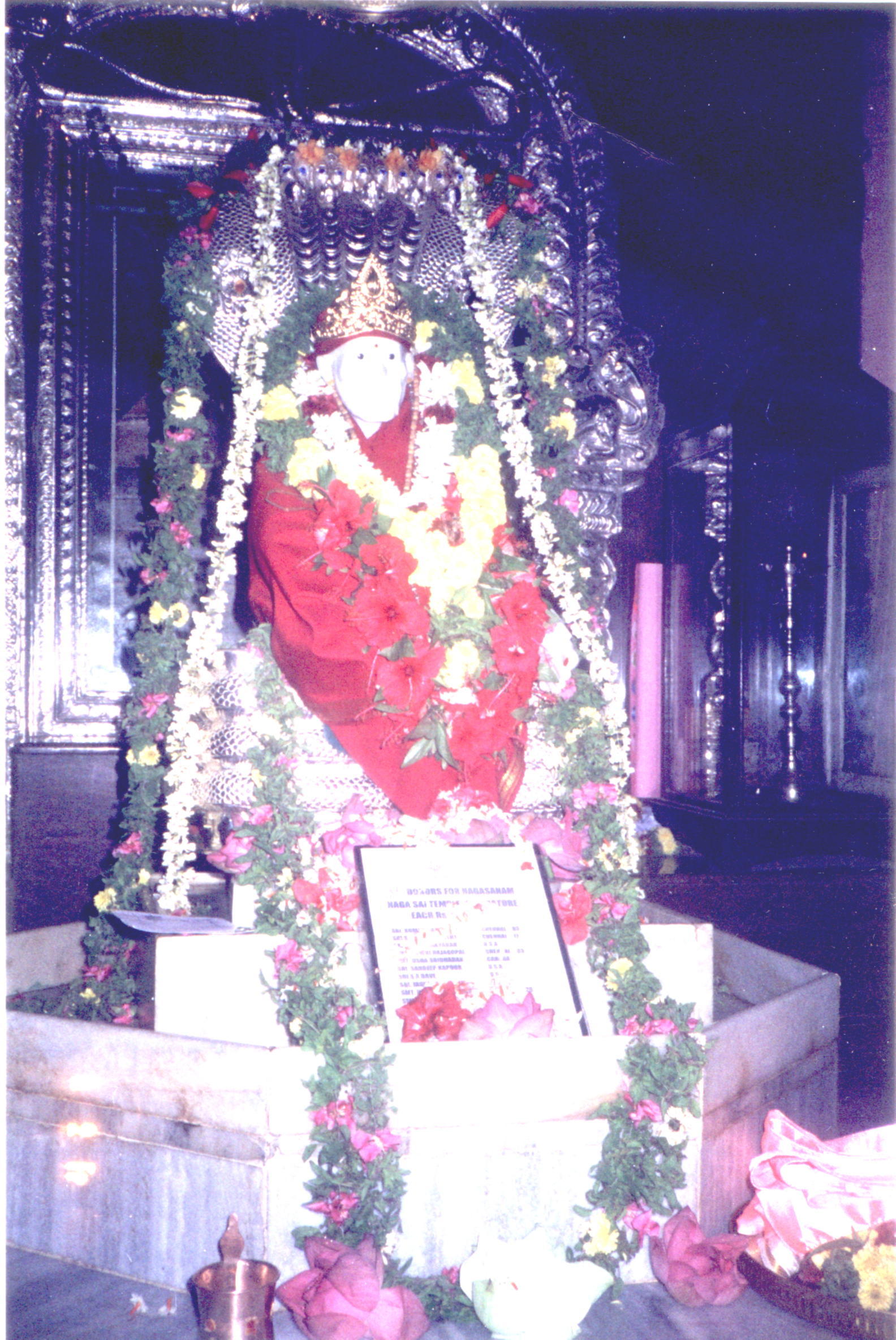 Feature of the week: Philosophy of Idol Worship
The idol is a support for us in spiritual childhood. A form or image is necessary for worship in the beginning. It is an external symbol of God for worship. It is the reminder of God. The material image calls up the mental data. Steadiness of the mind is obtained by image worship. The worshipper will have to associate the idea of infinity, omnipotence, purity, perfection, freedom, holiness, truth and omnipresence. It is not possible for all to fix the mind Absolute. A concrete form is necessary for practicing concentration. To behold God everywhere and to practice the presence of God is not possible for the ordinary man. Idol worship is the easiest form of worship for the modern man.
Idol worship is not peculiar to Hinduism. Christians worship the Cross-. They have the image of Cross in their mind. The Muslims keep the image of the Kaaba stone when they kneel and do prayers. The people of the whole world keep some image or the other in their mind. The mental image is also a form of idol. Everyone is thus idol worshipper. Pictures, drawings, symbols etc. are all forms of idol only. Idols are not the idle fancies of sculptors, but are shining channels through' which the heart of the devotee is attracted to God and flows towards him. Many would say, "Oh God is an all pervading formless being and how can God be confined to this idol!" Are these people ever conscious of His omnipresence? Do they always see Him alone in everything? No, It is their ego that prevents them from bowing to the idols of God and with that motive, they put this excuse forward.
The idol is a substitute or symbol. The image in a temple though it be made of stone, wood or metal is precious for a devotee as it bears the mark of his Lord, as it represents something which he holds holy and eternal. A flag is only a small piece of painted cloth, but to a soldier it stands something that he holds very dear. He is prepared to give up his life in defending his flag. Similarly, the image is very dear to a devotee. It speaks to him in its own language of devotion. The image arouses devotion in the devotee. A piece of ordinary white paper or colored paper has no value. We throw it away. However, if there is the stamp of Government on the paper (currency note), we keep it safe in pocket. Even, so an ordinary piece of stone has no value for us. We throw it away. However, if we behold the stone idol, we all bow our heads with folded palms, because there is the stamp of beloved lord on the stone. When you worship an image, we do not say; "this image has come from Punderpur. It was bought by Shriram. Its weight is 50 lbs. It is made of white marble. It has cost me Rs. 500/-" No! We superimpose all the attributes of the Lord on the image and pray. When our devotion and meditation become intense and deep, we do not see the stone image. We behold the Lord only who is pure Consciousness.
Image worship is very necessary for beginners. By worshipping the idol, the Lord is pleased. The idol is made up of the five elements. The five elements constitute the body of the Lord. The idol remains an idol, but the worship goes to the Lord. If you shake hands with a man, he is highly pleased. You have touched only a small part of his body and yet he is happy. He smiles and welcomes you. Even so, the Lord is highly pleased when a small portion of his cosmic body is worshipped. An idol is a part of the body of the Lord. The whole world is His body. The devotion goes to the Lord. The worshipper superimposes on the images the Lord and his attributes.
In Hindu way of idol worship, a devotee offers sixteen forms of reverence to the Lord. First, the presence of the deity is invoked. Then a seat is offered the feet are washed, and water and hospitality is offered. The idol is bathed, dressed and invested with the sacred thread. Sandal paste is applied to its forehead, flowers are offered and incense is burnt. Then a lamp is lit and waved before the deity. Food is now offered, together with the burning of camphor. A gift of gold is offered. Finally, the Deity is bidden farewell. In these external forms of worship, the inner love finds expression. The wandering mind is fixed now in this form of worship. The aspirant gradually feels the nearness of the Lord. He attains purity of heart and slowly annihilates his egoism. To the worshipper who has faith in the symbol, any kind of image is the body of the Lord, be it made of stone, clay or brass or be it a picture, drawing etc. Such worship can never be idolatry. All matter is a manifestation of God who is therein worshipped. Idol worship makes concentration for man simple and easy. This is one of the easiest forms of self-realization. It is one that suits the majority of people today. A look at the picture of God will elevate our mind to divine heights. This is truly a wonder and a miracle.
Regular worship of idol unveils the divinity latent in it. The picture comes to life. The idol speaks. It will answer our questions and solve our problems. The God in us has the power to awaken the latent Divinity in Idol. God is enshrined in the idol. From here, He will protect us in a special manner. The idol will perform miracles. The place where it is installed is at once transformed into a temple. Those who live in such a place are freed from miseries, diseases, failures and worldliness itself. The awakened Divinity in the idol acts as a guardian angel blessing all. The idol is only a symbol of the Divine. A devotee does not behold therein a block of stone or a mass of metal. It becomes an emblem of God then. So we can realize God through' worship of Idol. The whole world worships idols alone in some form or another. Idol worship is only the beginning of religion. Certainly, it is not the end. There are different grades of worship. The supreme state is Self-realization. Second in is Meditation on the supreme self. The third is the worship of symbols. The fourth is the performance of rituals and pilgrimages to holy places. The Shastra are like kind mothers. They take hold of the hands of the aspirants and take them systematically to the higher form of worship. Therefore, we all can shed our ignorant disbelief this moment. Enshrine supreme, unshakable living faith in our heart this very moment. Recall to our mind the glorious examples of saints of the past who reaped the rich spiritual harvests. We all too can enjoy great peace, happiness and prosperity here and attain Him here and now if we all have faith in idol worship.
(A Contribution by Sai devotee Mala Gupta, Abu Dhabi, UAE)


Back to Menu
---
Ravi Subramanian Gahanna, Ohio, USA
It was August 1997, I was going through a tough phase of my life. I was very much disturbed with my job. I use to pray all gods. Seeing me upset my wife started reading Satcharitra, this was told by one of our neighbor who were also a Sai devotee. My wife finished Satcharitra. I applied to many companies but I didnít get any favorable response. After some days, I got response from one company and I was told that I would be sent on training. Days passed on I didnít get any favorable response from that company. I was upset. My wife told me that she has finished Satcharitra and we need to go to Shirdi. I told her when I get some good result we will go. Then she told we should go first, and then only we will get some response. Then without any argument I agreed and went to railway reservation office to book the tickets for Shirdi for next day (i.e.) Saturday. After great difficulty I got the ticket and that too in waiting list number around 340 and also return journey for Sunday and that too waitlisted around 320. Normally with this waiting list number, it is impossible to travel.
I took one-day leave (on following Monday) and started for Shirdi next day morning. Train was about to leave at 11.00 AM. We went to station, station was jam packed and there was no chance of getting any seat, my son was too young, I asked Ticket collector for the confirmation, he refused and told us to go back as it would be impossible to go with that ticket. After several request we failed to convince him. In addition, I told my wife to that we would go back home and try some other time. She said no we will go now itself and we got into one compartment, which was in front of us, when train was about to leave. It was reserved compartment, train was full, and train left the station. We were standing near the door. TT came and asked us to get down at the next station, as that was reserved compartment.
After some time, we watched there were two seats vacant and nobody was sitting on it. We slowly went there and occupied that seat. After some time TT came and told us to vacate that seat, we told that we would vacate the seat if some one comes. Nobody came until evening. Again TT came and told us that he would reserve that seat in our name and asked us for some money and we paid Rs 50/sleeper. And we got three births and we slept comfortably, we thanked Baba and I started getting into Baba. Next day we reached Kopergaon. It was raining heavily anyhow we reached temple, had darshan several times and evening we started for station to catch train at 9.00PM, and we reached station at 8.00PM.
On reaching station, we came to know that train is running late and it didnít start from its starting point. I was worried about the ticket as it was also waitlisted. I asked stationmaster, as he was not having any status he was unable to tell me. Train was delayed and at last, it reached Kopergaon at 3.30 in the morning. And one couch stopped in front of us and fortunately, it was open too. We got into the train, surprised to see only two seats were vacant we kept our luggage there, and I got into another compartment to see ticket checker to confirm our tickets. To my surprise, he said, "the seat where you are sitting is reserved in your name". This shows how Baba takes care of his devotees. In that coach everybody was sleeping, doors were opened and only two seats were vacant. Anyhow, journey was excellent. At last, we reached home on 25 August. Another surprise was waiting there, the training letter. That letter was hand delivered on the day when we were in Shirdi. It said training started on 25th of August and asked me to join immediately, of course I couldnít go that day, but I could join next day and from that day onwards whatever happens to me it happens only on Thursday. I started on 20 November 97 from India to US, my first interview in the US was on 4 Dec, Thursday has become lucky day for me.


Back to Menu
---
Swamy, Hyderabad, India, e-mail:swamy@nfc.ernet.in , swamyswarna@yahoo.com
WHY DO WE GIVE ARATI?
A few minutes ago, my wife, who is a staunch Sai devotee was playing a cassette of Sai Arati and offering him Arati. The music was excellent and soothing and I too was enjoying the lyric, the tune and the voice of the singer, who could convey a sense of devotion to Sai. Arati is performed regularly in all Hindu Temples and the same custom has been introduced in Shirdi too. The question arose in my mind, like so many questions keep arising like waves in a turbulent sea. The question is: "Why do the priests / devotees offer Arati to God?" I got a few answers out of the possible many. I want to share the answers with all Sai devotees who may like to add the many other answers for my enlightenment.
1. The first is of course to do with light. Many temples in India are dimly lit and Arati gives an opportunity to get a better view of the God. Thus the light is physical and the devotion it evokes in the mind of the devotee helps kindle the spiritual light.
2. While Arati is performed with many types of lamps, camphor is the most common ingredient in all temples. Camphor has excellent medicinal properties; especially it protects against many diseases in a hot climate that pervades most of India. The camphor and other aromatic substances purify the atmosphere and when the devotees place their palms over the Arati and bring the palms to their eyes and nose, they absorb the medicinal benefits. This is born out by the books on Homeopathy.
3. The camphor Arati, especially is very short lasting and thus it signifies the short span of human life and the physical, sensual pleasures which come of attachments caused by AVIDYA or AGNANA. Thus Arati inspires the devotee to seek God who is permanent. "Make hay while the sun shines" is a popular adage. Since the Arati is short lasting, it compels the devotee to focus his attention on the God.
4. Bells are usually rung while the Arati is being given. The rhythmic sounds of the bells have a nice soothing calming effect on our mind, which helps in seeing the real God in the physical image.
5. In many temples, the Arati is also accompanied by chanting of Vedic Mantras or beautiful songs, which extol the virtues of the presiding deity, especially the all-pervasiveness. These again reinforce the devotion and help the devotee in his / her chosen path to reach spiritual enlightenment.
There could be several more possible reasons and the origins of this excellent practice are lost in antiquity. I will be grateful if Sai devotees could shed more light on this subject. While camphor is used in many temples, it seems that at least during Sri Sai Babaís time, it was not used in Shirdi. Can any of Sai devotees throw some more light on this?
Srikanth.K, New Haven, CT, U.S.A
Dear Sai Vichaar, Your weekly newsletter is wonderful, excellent and a boon to all "SHRI SAI" devotees, across the globe. The number of Sai devotees is increasing overwhelmingly and it will not be long before, 'We - The Sai Bhaktas' become one global family, a reckoning force, ever ready to help and comfort each other, so that we all reach the desired goal, of our lives. "Glory to Shri Sai Baba! Blessed are we, who chant 'His Holy Name'. By his benign and everflowing grace, we will attain Oneness with 'Him' who is the 'Paramatman Supreme'. I am a student from India, doing my Master's degree in the 'Health Care' field, here in the U.S and it is very heartening, that I can be in touch with all the' Sai activities' and 'Satsangs' taking place as an act of devotion to the 'Saint God', who has captured our hearts. ' May He, who is the sweet and loving 'Guru God' ever protect us, devotees, in all the lives to come'. It is rightly said, that this age of 'Kali Yuga' belongs to the 'Guru' who is our 'Utmost Benefactor'. Dear Sai Vichaar, thanks once again for your very delightful newsletter. And my greetings to all Sai devotees, in the 'New Millennium'.
MRK, Phoenix, AZ, USA
For SADHAKA TO ATTAIN MUKTI, it is necessary to have blessings of a Guru who himself is a fully realized soul like our Sai maharaj. Other gods also lead a sincere sadhaka to such guru. Ramakrishna Paramahamsa surrendered to the Jaganmata Kali. She directed him to seek Thotapuri for advaita experience. Rege was a staunch devotee of Narayana who directed him to seek and surrender to Sai maharaj. The Sapta Shringi Devi appeared to her pujari and directed him to surrender to our Sai maharaj. In Bhagavadgeeta also (4:34), those in search of god (mumukshus) were directed to seek the blessings of realized thatwadarsi. The same was taught by great souls like Ramana Maharshi. (From on Ekkirala Bharadwaja's Sri Sai Leelamrut).
Veena Gupta,New Delhi, India
Dear Editor, Thanks for publishing my write ups in your Magazine `Sai Vichaar` and have notices the response of the fellow devotees. I have started writing my experiences of Baba on the request of other Sai devotees and encouraged by the Sai Vichaar. There was also request from the producer of the movie on Sai Baba. Therefore, I have simply started writing my experiences with the help of my husband. I do not have Internet facility at my house. My husband brings me the hard copies of the Sai Vichaar and the letters. There is no harm in giving my E-mail address in the 'Sai Vichaar' but I am afraid that I may not be able to reply them all individually with my limitations. However, I will try to reach them through 'Sai Vichaar'. Devotees may send only text letters without any attachments to these addresses. ashok@dgsd.delhi.nic.in or guptaji@cyberspace.org
'Sai Amrit Vani' is a small booklet consisting of 32 pages and Shri Ram Bhakt Society, A-73(Basement) Shivalik, (Near Malvica Nagar) New Delhi-110017 distributes them free, along with an Audio Cassettes to any society/organization who wants to start recitation. So any organization can make arrangement to collect the material from them. I will try to take steps to put it on the web site by scanning the booklet. They also distribute a Note book for writing 'Sai Ram' or 'Om Sai Shri Sai Jai Jai Sai' to be written in any language. On 5th of March 2000 (Sunday), they are organizing a function near Shri Sai Mandir Lodhi Road where they will reward the devotees who have completed ten such copies, with a copy of Sai Sachitra or with a beautiful laminated photo of Baba. Distribution of Udi will be a difficult task and may not be possible. I will continue to write my experiences with Baba as long as He wishes.


Back to Menu
---
"How do spiritual pursuits help material contentment?"
Raghu Vissamraju
Contentment in life is a state something which rarely attainable in many of our lives. It is that our desires are endless, satisfaction of one desire leads to another and thus they entangle our thoughts and completely take control of our senses and mind. Thus, we are lost in the midst of heavy fog or mist of material desires. Relentless spiritual pursuits magnifies the light of wisdom in the midst of thick fog of desires like a sunlight, and the fog slowly clears up and gives us a clear vision to look at the objective we are supposed to concentrate on. Baba's message to us to gain material contentment is very clear. We have to first sacrifice or give away the thing, which we are yearning to gain. For example, a Man who wishes to gain wealth for material contentment has to first give away or donate his wealth to the needy and the poor. In this context, let us recall Baba's say that "I WILL HAVE TO GIVE 10 TIMES OF WHAT I TAKE FROM YOU". Baba took Dakshina (Donation) from devotees not only in the form of money but in the form of a simple "Namaskarams" (Salutation) and blessed them with both material and spiritual contentment. Baba blessed with Children for Childless, health for the sick and with wealth for the poor. Baba says that "My Treasure chest is full and over flowing, it is for you to fill in your own containers, but it is only for those Children of mine who deserve and capable of doing so". Hence what we offer to the poor and needy is for our own self. We have to offer with kindness, love and humbleness. Our spiritual pursuits will not only yield material contentment but also leads us to reach the goal, which is our ultimate objective. Baba kindness and love has no bounds and so he says, " Poverty is something that can never be seen in my devotees house".


Back to Menu
---
Surya Narayanan
I am employed as an Executive in a Bank in-charge of computerization. There is lot of activities, but lot more of internal politics and leg pulling. Total confusion and chaos prevail. The management group is pulling in one direction and that may be harmful to the bank. A small band of professionals like me is trying to do their best, but the pulls and pressures make it difficult to function effectively. I am a qualified CISA and M.S in software systems and now another organization has offered me more than double the current emoluments and a job that will involve lots of globe trotting. But I feel morally responsible for completing the projects I have in hand. The bank may elevate me or may not. I also know the Chairman well, who is trying to do his best for the organization. I am confused as to continue here and ask for an elevation in the rank and pay or take up the new job. I feel like continuing and completing the tasks which can put my present organization in a better footing, but the offer that I have is also so well I am confused. Please pray to Sai to show the right way that is good for all concerned.
Sheena Bhatia, Los Angeles, CA, USA
My Dear Sai Baba, by your grace and blessings, I am leaving for India. I was so happy that I could read my Sai Vichaar. Baba, please keep your hand on all of us and bestow your blessings on my wonderful sister and jijaji. Assure that all goes well. Do give me an opportunity to visit Shirdi. Baba you know that I trust you a lot. My result is going to come and I m very scared Baba. You know everything, please be with my lovely family and me always and bless everyone who comes to you. I love you a lot Baba and thank you wholeheartedly on everyone's behalf for all that you have given us and taught us. I pray on my masi's and naniji's behalf to give them peace and happiness after the unfortunate incident. It has been the most difficult for them.
Subha Kamath
Dear Sai Baba, Please help my nephew Rohan. He has some problem called autism that somehow is interfering with his normal life. Please cure him of his problem. I pray to you to give him good wisdom and the ability to stand on his own feet to be able to raise a family and take care of his parents. My sincere prayers I offer at your feet. Please shower your blessings on Rohan. I beg of all the Sai Devotees to pray for my dear nephews welfare. Om Sai Shri Sai Jai Jai Sai.


Back to Menu
---
You may subscribe to receive the newsletter by e-mail.
Back to Menu