Sai Vichaar
---
June 24, 1999
Volume 2, Issue 5

---

1.Feature of the Week: Unity
2.Experiences of Devotees
3.Devotees Say
4.Sai Activities
5.Prayer Club
6.From the Editor's Keyboard
7.Subscribe to Sai Vichaar
8.Disclaimer

---
From the Editor's Keyboard...
Sai Vichaar is very happy to see more Sai centers and Sai activities organized around the world. One such example is Shri Shirdi Sai Sansthan at Sydney, Australia. Congratulations to the devotees of Sydney, Australia on the blessed experience of having an organized spiritual commitment of spreading Sai philosophy down under. Devotee Siva Kumar wrote to us from Colorado Springs, CO inquiring whether there are any Sai satsangs in the vicinity of Colorado Springs. Sai Vichaar will be blessed to cater to the needs of devotees that would like to find such information. Devotees in the vicinity of Colorado Springs, please write to us if you have Sai Satsangs organized in that area. The very purpose of Sai Vichaar is to function as the medium that spreads Sai messages and gets devotees together for the purpose. Devotees that would like to have others in their regular Sai prayers and Bhajans are requested to share that information through Sai Vichaar. Such information would be immensely beneficial to devotees like Siva Kumar longing for the spiritual experience of participating and organizing in Sai activities.
Devotees in the Chicago area are reminded that Sai Samsthan USA has scheduled its monthly pooja for June 1999, on Sunday June 27. Please refer to Sai activities section for more details. Please watch for the details of Guru Poornima activities sponsored by Shirdi Sai web site organization in the forthcoming issues of Sai Vichaar.
The Question of the week for this week is
"What is subtle ego?"
Humbly yours,
The Editor

---
Disclaimer
Sai Vichaar is devoted to the philosophy and teachings of Shri Sadguru Sai Baba of Shirdi, and will take every measure to avoid topics or themes contradicting the same.
Sai Vichaar team or the Shirdi Sai Baba web site organization is not responsible for the opinions expressed by individual contributors.


Back to Menu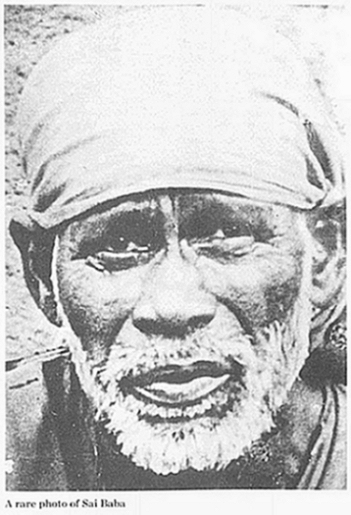 Feature of the week: Unity
Hardwar..Kaashi..Mathura..ya.. Vrindaavan
Kaabah..Ganga..Jamna..Mandir..Masjid..IK.. Sayee Baba
Sai Baba is all the pilgrimage, Mathura to Mecca. He dwells in all temples, Mandirs to Mosques, Churches to Synagogues. Sai childrens' constant remembrance of their father should manifest in the way they view other faiths. The unique Saint of Shirdi has proposed in unequivocal terms, the oneness of God and the various ways that lead to God. Several incidents during Sainath's tenure speak themselves to this fact. From the celebrations of Rama Navami and Urs together to the physical demise of Baba on a Vijayadashami as well as Moharram day dear to Hindus and Moslems.
Sai Baba appeared at the horizon of this century to teach us tolerance and as we approach the millenium, the task is far less completed. Some of the recent incidents across the globe are the reminders to the current state. Responsibility of Sai children has to be respect to everyone, tolerance towards every faith, and the humility that Sai Baba himself has stood as an example. Let us sing the glory of such a wondrous Saint who has consistently lead His followers from the darkness of ignorance to the shine of realization. Let us all recite the poem written by Das Ganu Maharaj on Sai Baba as follows:
You are Brahma, Vishnu and Siva The quintessence of the three gunas And on earth you manifest as Sai the powerful
In the early morning you become Brahma and spiritual knowledge flows from you And sometimes resorting to the qualities of tamas You assume the terrible form of Shiva Sometimes like Krishna you indulge in childlike pranks And at times you become the fables swan in the lake of your devotees' minds Considering your fondness for grantha how can you be called as Muslim? And yet if you are a Hindu how do can you dwell happily in a mosque? If your house be a mosque why does it have the sacred fire of the Hindus burning continuously in the dhuni that produces the udhi? Such lilas of the Trinity manifest in you Are experienced by us daily, O'Baba Sai!
(Poem from God Who walked on Earth by Rangaswami Parthasarathi)

Back to Menu
---
Jaya Venkat, Abu Dhabi, U.A.E
(Originally posted on Wednesday, June 23, 1999)
Sai Ram. I would like to share my experience that how Sai Ram helped me instantly. I am working for a German Company as a Secretary. I was expecting six visitors from Germany for a conference in Abu Dhabi. Accordingly, I had applied for six visas through our agent. After 4 days, the secretary from Personnel Department. came with the original visas and asked me to acknowledge. As a matter of trust, I received it and she left. The sponsor's office is just opposite to our office. Later when I checked I found only five visas, whereas I had acknowledged for six visas. I got the shock of my life. I ran to the Sponsor's Secretary, showed all the visas, and told her that I didn't receive one visa. She told me directly that I had acknowledged it and hat's it. I explained to her very well you could see only you gave me five Visas, I double checked it might be sticking to one another, but all in vain. I gave the secretary the name of the person whose visa I didn't receive and came back to my office. It was already late in the evening, I kept these five visas in the safe, locked it up and then left for home. I was totally worried about that particular visa. Next day the moment I came to the office, called that secretary, and asked if she found the visa, she said no. Then, I cam back to my office, started my routine, first thing after coming to the office, I Have a diary in which I write "Om Sai Ram", that day also I was writing Sai Ram and praying that I should get the visa, immediately I got a voice coming saying open the second draw, I opened it I found only that particular visa as the rest 5 visas, I had kept it inside the safe. I was dumbfounded, SaiRam really helped me. I really was so much thrilled and excited that I was feeling on the top of the world. Sai helps everybody. It's just the faith, devotion and entire surrender to him will help everybody in all walks of life


Back to Menu
---
Siva Kumar, Colorado Springs, CO, USA
My name is Siva Kumar. I am from Colorado Springs and am a Sai devotee for the last 10 years. I would like to know whether there are any Sai centers in or around this place. I would be very grateful if somebody can help me find one here.
Jeevan Chinani, Pennsylvania, USA
I thank you for all the messages and Sai Vichar. We live close to Philadelphia and are looking forward to visit the nearest temple OF SAI BABA close to this city or Wilmington in Delaware. Could you please guide us and give us the telephone numbers and the address?
Raji Gopi
Thank you very much for informing me all about your activities and I enjoy reading your newsletter. It is very interesting and one can learn a lot from this newsletter. I wish you all good luck. You will always receive my support. Keep me informed always. My regards to our fellow SAI SISTERS/BROTHERS AND FRIENDS. BOWING TO OUR BELOVED SAI BHAGWAN's LOTUS FEET YOUR SAI SISTER
Jenny Naidu, Ohio, USA
Dearest Sai Vichaar I feel so blessed and overwhelmed by the wonderful soul-stirring articles in the newsletter. It is to me like persad from the lord. I want to share a leela that is occurring at my home now. On a beautiful 20 by 30-inch photo of Sai there is an oily substance spreading all over having begun at the bottom of the photo. Each day when I pray I look at it and the pattern of spreading grows. Now it is close to Sai's lip. I read another posting of a similar occurrence in Los Angeles. If anyone has any insight or explanations I would love to hear. Please do not misunderstand my motives. I am enjoying the occurrence immensely as I read that this is the year when Sai will reveal his leelas and miracles more and more. I was interested in knowing where else it might be happening. Sai thanks humbly for your sign and leela.
Pinky D.G.
Thank you so much to all the Sai Vichaar Staff and devotees who share their experiences, it is just so nice and by reading some of the experiences, you feel it is really you who is experiencing the bliss of Baba. I just want to ask the devotees that if you also feel or cry for Shirdi Baba and no ones knows why you are crying and only one sound comes from your heart that "I just want to be with you". I am yearning so much to go to Shirdi please pray to Baba for me.
Dr Vrinda Kumar, Sydney, Australia
We from the Sydney Shirdi Sai Sansthan have finished our joint parayan and distributed prasad on the 13th. We thank all our Sai family for giving us moral support. We wanted to share with everyone that on the 13th itself Baba gave us our first check towards our temple fund. With his blessings we will soon accomplish our mission. Om Sri Sai. I am enclosing a write up on the parayana, which we read to our devotees on this Sunday the 13th. The Parayan of the Sri Sai Satcharitra. Sri Sai Satcharitra to the Sai devotees is like Guru Granth Sahib to the Sikhs. When you are reading the Satcharitra you feel the presence of Sri Sainath. There is no difference between Sai who lived in Shirdi and Sai Satcharitra, which is read today with devotion, dedication, reverence and perseverance. This book can be considered the divine manifestation of the almighty Lord Sai in the fashion of letters and lines. script and scriptures. In chapter three of this holy book, the author has compared the Satcharitra to a lighthouse in the ocean of worldly existence. It guides us smoothly across the worldly path overcoming the various obstacles along the way. This book is like a deep bottomless sea in which one can dive repeatedly and each time come up with innumerable treasures. What happens when we read this holy book? On the screen of our consciousness, the divine image of Sai Baba acts and plays, so that the mind's eye can visualize the living presence of Baba himself within oneself. It will remove our attachment to worldly objects and ultimately lead us to self-realization. This is the highest benefit for which we read Sai Satcharitra. This reading is called 'Parayan', a Sanskrit word which means reading and being involved. The unaccountable value of reading this book is established beyond doubt by the innumerable experiences of devotees. Baba's life shows us the true and great path. His teachings are as interesting and instructive as the Vedic lore and if listened to and meditated upon the devotees would get what they longed for. The stories and leelas of Baba are sweeter than nectar. Hearing them helps egoism and pride to be replaced by wisdom. Reading this holy book is our direct involvement in the shubh Marg (clean path) preached and paved by our beloved Sai. Sri Sai Baba says that his path is path of cleanliness. Sai Nath always gives 'udi' for the material and spiritual well being if his devotees. Baba used to say, " hearing or reading my stories and teachings would create faith in devotees' hearts and they will easily get self-realization and bliss."According to the last chapter of the SatCharitra, reading this book regularly with devotion and faith will ward off calamities and your sins will be destroyed. You will get a reward according to your faith and devotion. Continued reading and sharing of Baba's stories will give us an ever-new flavor of them and save us from future miseries. If you read this book respectfully, Sai will give you knowledge, wealth and prosperity and hence unbounded happiness. The diseased and sick will get health, and the mind will get rid of all ideas and become steady. The parayan can be performed as a saptah parayan. This means we start the book on a Thursday and finish on the next Wednesday. This is supposed to be the most powerful wish fulfilling method. Another way is to read one chapter a day. Try to begin on a Thursday. At least try to read this book on few special occasions, Guru-poornima, Ram-navmi, Mahasamadhi day and Gokul ashtami. If one cannot follow any of these routines even reading one paragraph a day is better than not reading at all. What is more important is to read with devotion and faith. Another point that should be stressed is that it is a pure mind and not a pure body that is essential to conduct a parayana. The essence of Baba's teachings is the freedom to take his name in any state or manner. The important thing is to remember him. Each devotee has the freedom, according to his/her devotion and convenience, to follow whatever ritual he/she believes is important towards achieving Baba's love and grace. There should be no hard and fast rules. Om Jai Sai
Response from a Devotee to the question of the week
The greatest obstructions to spiritual growth are allowing artha and kama to go beyond dharma. Whenever earning money is not for decent living but for pride and desire is not limited to righteousness, growth on spiritual side drops off. It is therefore said that kantha and kanaka -sexual indulgence and grabbing worldly goods unlimited are the greatest material obstacles. Allowing free flow to the senses and losing oneself in worldly enjoyments have to be avoided by sincere sadhaka in spiritual pursuit.


Back to Menu
---
Sai Samsthan USA, Warrenville, IL 60555, USA Sai Samsthan USA has scheduled the Gurupurnima celebrations on Wednesday, July 28, 1999 at Shri Sai Baba mandir in Warrenville, IL a Chicago suburb.
The program is as follows:
9.00 AM Kakada Arati
10.00 AM Vishnu Sahasranaama Havan
1.00 PM Madhyahna Arati
1.30 PM Mahaprasad
3.00 PM Sai Satcharitha Parayan
4.00 PM Samoohika Vishnusahasranaama Parayan
6.30 PM Dhoop Arati
7.00 PM Abhishek to Shri Saibaba
Ashtothrasatanama Puja
Bhajans and Kirtans
9.00 PM Shej Arati
9.30 PM Mahaprasad

The important feature of this year's celebrations is the Vishnu Sahasranama Havan scheduled at 10.00 AM on Gurupurnima Day. This event requires 1008 sponsors. Sai devotees are requested to use this opportunity, participate in an activity dear to Lord Sainath and seek His blessings on Guru Poornima day.
For further details, please contact Sai Samsthan USA, at 27W 321 Butterfield Road, Warrenville, IL 60555. Phone No. 630-653-4444. Information can also be obtained by contacting on of the following:
Umapathi Kattamanchi 708-448-3016
Nagabhushanam Koneru 847-304-0641
Anantha Sonti 630-790-3800
Manju Panjwani 847-677-6654
Jitendra Shelke 773-465-5605


Back to Menu
---
Leda Zúñiga, Costa Rica
Hello! It's a pleasure for me to write you and asking for Sai Baba's help for my health and spiritually guidance from him. I know that probably he is not going to receive this message because he is a very busy person, but if someone can help me telling him I'll be very thankful. My name is Leda Zúñiga, I'm from Costa Rica in Central America. Thank you very much for all you can do for me. Receive all my unconditional love.
Raj Ponnaluri, (hemaraj@indiatimes.com)
Each individual responds to a literary piece he/she reads in one of two ways: read the content and move on, or read the content and respond. Ms. Radhika's note falls into the second category, especially her last sentence, "Please pray for Helen (my friend) that she may find strength and courage to deal with her loss and for me that I may develop unquestioning faith and patience in HIM." While the first half of this text refers to an unselfish act of seeking help through prayer for a friend; the latter alludes to a genuine request for improving one's own self. May all devotees be blessed with such a pleasant demeanor. But isn't that a characteristic of most inhabitants of Sai-Graam? I believe it is! May Baba shower His blessings on one and all of us, especially Nila, her husband, Helen and Radhika! While expecting Baba to carry our heavy loads, let us not forget to keep Him cheerful by exhibiting an iota of selflessness in all our daily lives. While still on this topic, let me take a moment to thank SaiVichaar, a medium that continues to epitomize the uniqueness of our Father, and His sons and daughters.


Back to Menu
---
You may subscribe to receive the newsletter by e-mail.
Back to Menu