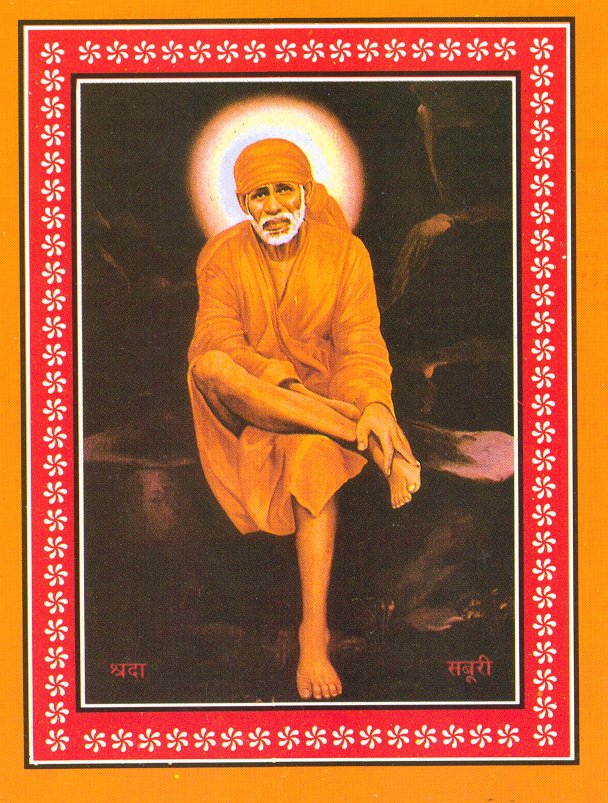 Feature of the week: Pride (Ahankar)
Contribution by Dr Vrinda Kumar
Pride can be due to several things. The common reasons being knowledge, money and power. Achieving or acquiring something uncommon can also result in conceit.

Sai Baba always stressed on the importance of surrendering one's pride completely as a prerequisite to attaining self-realization. Time and again Baba sought to rescue his devotees from this trap. The most significant story which highlights this is an incident concerning one of his most ardent devotees, Nana Saheb Chandorkar.

Nana Saheb Chandorkar like many of his contemporaries were sometimes mistaken about Baba's omniscient existence. Sometime they actually believed that he did not have knowledge of scriptures or was not conversant in Sanskrit (then considered to be the language of scholars). Baba had his own way to dispel such misconceptions. One day Nana Saheb Chandorkar was reciting something while engaged in the service of Baba, when Baba questioned him about this recitation. Thinking that Baba had no knowledge of Sanskrit Nana Saheb proceeded to explain to him that it was a Sanskrit verse from the Gita: Baba then asked him about a word to word translation and particulars about the grammar, case and tense. Nana Saheb, was flabbergasted on being cross examined in this detail by Baba. At that instance, he realised that Baba had humbled his knowledge of Sanskrit. This incident is not simply a testimony to Baba's knowledge of Sanskrit, but an important lesson that he divulged to Nana Saheb while clarifying the sloka. The sloka concerned Krishna's advice to Arjuna to completely surrender to a guru in order to seek Jnana. Baba went into the character of Krishna, asking why a jnani like him was referring Arjuna to other Jnanis instead of giving Arjuna the jnana himself.

Reflecting on this Baba stressed something important. True knowledge is removing the misconceptions that we know everything. Intellect should not mean arrogance. The danger in seeking knowledge is gaining arrogance. Arrogance has the power to destroy anybody; it creates disharmony, conflicts and constant unhappiness, obstructing the path to spiritual harmony. Baba asked one thing of his devotees wishing to attain the path of self realization: surrendering their pride at his feet. The true devotion to the guru must mean that we must practice humility, not intellect or the urge to rationalize everything, but pure and simple humility. By this simple incident Baba sought to remove Nana Saheb's conceit and hoped to show him that the way to attaining the source of light was by exercising faith, trust, receptivity and above all humility.


Back to Menu
---
Article
Contribution by Srinivas Surubhotla, USA
Why Sri Sainath Maharaj is called Sacchidananda Sadguru?
Every time the aarti is sung or some devotee visits Sri Sainath Maharaj, they hail him as 'Sri Sacchidananda Sadguru Sainath Maharaj ki jai'. What is the real significance of this term 'Sacchidananda' ?
The famous sage Shuka, son of Sri Vyasa Maharshi, goes into deep forests for penancing in search of 'Brahman'. After sometime, he returns and tells his father ' O father, I found Brahman. It is nothing but the Food we eat. All the beings on this earth sustain because of food. They take form from food and after leaving this body, they again enter food.' Vyasa tells his son that it is incorrect and asks him to continue his penance.
After some more time, Shuka returns and conveys to his father that Brahman is nothing but Life. Because, it is the life that is making everything active and any object on the earth is inactive without life in it. The father sends the son to the forest again.
Shuka was in a deep penance this time and after some more time, comes with an explanation for Brahman. He says this time that the Mind is the Brahman. Because, it is where all this thoughts and ideas start, develop and end finally. It is the one which is playing a crucial part in all the human beings activities to do or not to do something. Yet, the untiring father, Vyasa, is not convinced and sends his son into the deep woods again.
The boy retires to the forest with more zeal and vigour to know the real form of Brahman. He forces himself to still more severe penances and comes home after some more time and submits to his father; 'O father, Brahman is nothing but Knowledge. Though one has food, life and mind. Without the knowledge of realizing all these, there is nothing.' Sage Vyasa seems not to be fully convinced and asks his son to explore still further.
Sage Shuka returns to forest and this time after a long time, he returns to his father to submit that happiness or eternal bliss is nothing but Brahman. Here, the real meaning of happiness is contentment. Though you have everything at your disposal, lack of contentment would throw all this into dark and make you unhappy.
Then, Vyasa explains to his son, 'O, my dear son, Brahman contains all the aspects you put forth till now. But that is not the entirety of Brahman. Note the subtle difference that this is all Brahman but Brahman is just not this. Brahman is nothing but Sat (Truth), Chit (Eternal or immortal, the soul) and Ananda (infinite). In real terms of Shastra, ananda is not happiness but infiniteness.
The term 'Sacchidananda' is made of 'SAT', 'CHIT' & 'ANANDA'. Thus, Sri Sainath Maharaj is the embodiment of Truth (always existent), Eternal or immortal & infinite shape of Brahman in physical form.
My humble pranaams to Sri Sacchidananda Sadguru Sainath Maharaj !!!


Back to Menu
---
Dear Readers,
Believe it or not the Great Miracles of SaiBaba
It was on Thursday Sept.03 1998, I happened to go for the Vehicle Driving Test without schedule with my Driving School Instructor who had called up to me and try for the standby. I was given the date for the exam in the last week of October. To my surprise, without taking the driving course for the exam I went along with him to the Driving Test office and inquired if I stood any chance for appearing the test to-day. The lady on the desk immediately responded to my request and asked me to pay the necessary charges for the driving test and be on the standby for that day.
It was unbelievable for me that I would be given a chance on that day as there is always a waiting list for months in advance. However, I paid the amount and another surprise is that the lady who had filled the driving test form wrote that I would be given G2 test at once which I had not gone through it prior to giving the road test. My driving instructor wished me good luck and said that I will have a tough test because there are two instructors sitting in my car instead of normally one. I did Pray to my Lord Saibaba earnestly this time that if I fail then I could not afford to give the test once again as He knows that I am already passing through the great stress and hardship.
I am always in the habit of carrying the Lord Saibaba's locket in my wallet. I took out the Lord Saibaba locket and put it in my shirt pocket. The driving inspectors asked me if I am ready for the test. I said once again to myself and Prayed to the Lord before starting the engine. "O Lord Please Help me to pass this exam". I started the car and inspectors gave me the instructions while driving. At one instance I made a mistake, I thought to myself that I have failed once again. Finally the driving test is completed and the inspectors are holding the discussions among themselves of my result.
To my shock and surprise, the driving inspectors said although I made a mistake 'You have passed the exam'. My happiness knew no bounds . The Lord truly heard my prayers. Thanks to Lord Saibaba for the first stepping stone of success.
Ravinder Thota
Canada
I would like to share with you an incidence that happened to our Group this day. I belong to Southern Highlands Sai Group. We all went to a Sai Devotees place at Canyonleigh. There wasn't much of the Sacred Ash. when the time came for everyone to dip into the Ash it was full (not the grey Ash that originally was in the container) but this time it was white. It was great for me, as the others are all followers of Sai Baba. I go because I like their company and I have an open mind, as he was in a Dream I had.
Dorothy Wells


Back to Menu
---
This is in response to the letter written by Bill of Colorado in the 15 Oct Sai Vichaar.
I would like to write a few lines in response to Bill Colorado's letter. Firstly, it was good to read in the end that he was not giving up easily and was keeping up his Faith. One thing is for sure - Baba is most merciful, He does not hate anyone. He is only full of love and goes to any extent to care for those who turn to Him, irrespective of how good or bad they may be. He is so much revered by all not only because of His powers but also because of the deep love and care He shows towards His devotees.
Secondly, a similar feeling came over me some time ago - I gave the Satcharita to many people and sort of introduced Baba to them. They have all been to Shirdi already. I went all the way from Australia to visit my parents and then thought of going to Shirdi on the way back. I went upto Poona (which is very close to Shirdi). All of a sudden my daughter developed malaria and chest infection, and I was strongly advised not to travel anywhere. I almost had to cancel my return trip to Australia which was only 3 days away. I called up my cousin and told her how unfortunate it was that I came all the way and could not go to Shirdi. Perhaps Baba does not like me, perhaps I have done something wrong. She said she lived in Poona since 12 years and has not been able to go to Shirdi ! She said Baba knows best and does everything in your interest so He will call you at the most opportune time and arrange things too. Don't worry. There is always a reason for why He does what He does - and that reason is always directed at your welfare.
Also, in a way I thought it was a lesson for me - I thought "I" was a devotee first and involved others because of "me", "I" planned my trip etc. forgetting that He is the one who gets things done and that everything is controlled by Him. So there was sort of some ego in that. Also, perhaps He just came in the form of the doctor to give the timely advice. Or perhaps He is testing me. He asks for 2 coins - not only Faith, but also Patience. All these interpretations arise from just one source - Faith in Him.
So the best thing to do is to continue one's endeavours and Baba is sure to bless us in some form.
Regards,
Shailaja Divakarla
Dear Sir/Madam,
I looked at your website and I really liked it. I found Hanuman Chalisa in it. I needed it for chanting everyday. I am thankful to you.
Ram
It was a grand experience to be able to go through the excellent site of Saibaba. Hope to come back again.
Neeta and Arun Talpade


Back to Menu
---
Sai Ram,
Suresh K. Lal, Ajmer
We are planning a opening of Shirdi Sai Temple somewhere in End December/Early January at Ajmer. The opening celebrations shall be the staphana of the Sai Statue which is at the moment ready in Jaipur. The Havan shall take place after the opening of the temple doors to everybody.
Ajmer being a small city there is lack of accomodation in the form of Hotels & Dharmshalas. If we know how many overseas guests & Domestic Indian Guests shall be attending we will try our level best to try to get proper accomodation for everybody so that everybody is comfortable. We are at this moment arranging a comittee in Ajmer alongwith a E-Mail Address so that proper correspondence takes place which shall be informed shortly.


Back to Menu
---
You may subscribe to receive the newsletter by e-mail.
Back to Menu