Sai Vichaar
---
June 15, 2000
Volume 3, Issue 4

---

01.Feature of the Week: Sai Baba's Sacred Words to Abdul.
02.Devotees Say
03.Prayer Club
04.Sai Activities
05.Experiences of Devotees
06.Question of the Week
07.From the Editor's Keyboard
08.Submit your article to Sai Vichaar
09.Subscribe to Sai Vichaar
10.Disclaimer

---
From the Editor's Keyboard...
Please refer to this week's Feature of the week based on Dr. Marianne Warren's new book on Sai Baba. This book presents a unique perspective of Sainath's teaching. Sai Vichaar is blessed to present this material, yet another small step towards spreading the universal nature of Saint God's message, beyond religions and cultures. May Sai bless Ms. Warren for this attempt. Please note that the book is available from Sterling Publishers or this website at http://www.saibaba.org/online.html.
Readers and devotees are requested to note that the venue for Sai Utsav is Chicago, from November 23-25, 2000. This is an exciting three day event of Sai satsang, naam jaap, concerts, discourses, bhajans, audio visuals and other activities intended for Sai devotees, men, women, and children. Please watch for more details in the days to come.
The Question of the week for this week is,
"What is meditation?"
Humbly yours,
The Editor

---
Disclaimer
Sai Vichaar is devoted to the philosophy and teachings of Shri Sadguru Sai Baba of Shirdi, and will take every measure to avoid topics or themes contradicting the same.
Sai Vichaar team or the Shirdi Sai Baba web site organization is not responsible for the opinions expressed by individual contributors.


Back to Menu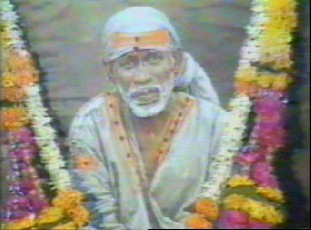 Feature of the Week: Sai Baba's Sacred words to Abdul.
Source: Unraveling the Enigma - Shirdi Sai Baba in the Light of Sufism by Dr. Marianne Warren, Canada)
Abdul was amongst Sai Baba's close devotees and lived with Sai Baba in Shirdi for a continuous period of twenty nine years before Sai Baba's Mahasamadhi and then remained in Shirdi for a further thirty six years until his own samadhi in 1954. Abdul wrote down some of Sai Baba's utterances and explanations and over the years these notes accumulated into a small volume. After Sai Baba's Mahasamadhi, this old notebook manuscript became very precious to Abdul as he made use of it, according to Sri Narashimaswamy, as a 'Book of Prophecy' through which Sai Baba's message and guidance could be obtained.
Thanks to the efforts of Dr. Marianne Warren, Abdul's notes have been fully translated and published in her book - "Unraveling the Enigma - Shirdi Sai Baba in the Light of Sufism" published by Sterling Publishers, India. In foreword to the book Dr. N.K.Wagle of University of Toronto says:
"Dr. Marianne Warren's work is the first scholarly attempt to provide a historical context to Sai Baba's teachings. An equally original point argued convincingly by Dr. Warren concerns Sai Baba's knowledge of Islamic Theology. Dr. Warren has translated the Saibaba manuscript in which Sai Baba gave discourses on Islamic history and thought to his pupil, Abdul, his personal attendant, whose tomb rests near Sai Baba's shrine".
For Devotees who want to advance spiritually, and are looking for gems to collect as Baba used to say, these sayings are invaluable and should be taken as word personally spoken to each one of us without any prejudice, argument, discussion or controversy.
Abdul's notes on Sai Baba's teachings:
Page 12: The religious emotion is purely spiritual. Only secondarily it relates to the material world. O Parvardigar! - Universal Sustainer. O God! O Habib! - My Beloved! What we see in this material state is not real because you cannot understand it through the intellect or by inference. Those who consider the spirit as without beginning, this opinion is incorrect because thinking itself is not permanent. And life is the real thing. The body is subordinate to it...
Page 14 : To understand the true form of God is difficult. In the Qur'an, it is forbidden to picture God with form. If you walk on the path of righteousness, then you will not feel the need for it. It requires great effort to walk on the path [of righteousness] i.e. tapas. When a person practices taps (riyajat), divine insight (ma'rifa) will automatically come.
A sura from the Qur'an says something to this effect, Ajjain jahidu fina tabulana riyajat - He who performs tapas, I regard him to be on the path. It would not be proper to give him full knowledge about it. But before you proceed on the path of Allah, you must discipline the mind. It is strategic to strengthen the defenses, with fortifications. If an army does not move how can the war of righteousness be fought. O dear friend! Know this that the body is the kingdom of the heart. Do not think that the heart has many armies. The Qur'an says: Maya alam rabbuk janud ilahu - The army of Allah, do not think that it has to besiege the mind/heart. The heart is created for the realization of God. To find the way to attaining a vision of God is a man's true task. For the vision of God, divine sight is necessary.
Page 20 : [Similar to page 12 but longer and written at a different time]
Religious emotion in full is purely spiritual. It is not material. Secondly it means that you will see the world as material or only relatively real (until you have a vision of God). Parvardigar! O Dear One!., O Dear One! the material (relative state) world is unreal. There is no place for intellect and inference. Those who regard the spirit as without beginning, this is not true. It is wrong to address the spirit because it is dependent on others. The real form of man is prana - life force. The body is under the control of prana. The people who equate the spirit with the body are wrong. The body is impermanent. Animals also have a spirit, which is also impermanent, called dil or heart, which seeks the mercy of God.
The full translation of Abdul's notes is available in Dr. Warren's book, which is available through this web site.


Back to Menu
---
Raghu Vissamraju, New Zealand
According to Hindu tradition we perform several rites to God. We read 108names in praise of God (Ashtothara), thousand names in praise of God (Sahasranama), while we prostrate in front of God's Idol in places ofworship we pray in our hearts/outwardly praising his glory. Our traditional belief also says that Hanuman, raise and bloats like a balloon when someone praise him. We will also notice the same way of exalt/praise while Muslims/Christians pray Allah and Jesus. Some friends of mine told that this practice is to make God happy. God seems to enjoy and feel extremely happy while his devotees applaud/praise him. Is this not some sort of sycophancy!? God according to scriptures is not supposed to yield to praise/blasphemy, then why is it done!? Can any one please explain!?
Balasubramaniam, Malaysia
Sai Baba is present in everybody of his devotees. Although I have not seen Sai Baba, I receive his blessing everyday. In Gelugur center in Penang, Malaysia, a lot of miracles take place. In this center, vibuthi, kumkum , chandan, oil , holy water from the deity of Mary and even gifts from Baba such as rock sugar, bandens, rings, lucky stone are received. I have experienced while praying , Baba will drop it from his photo towards you. Almost every month , there are devotee from all over countries visiting this center. Anyone can drop by to this center. 24 hours open and there is always people to welcome all of you. Recently , a lot of devotees from Singapore came to this center in 1999, Baba has written a message with vibuthi . The message is, " don't shift me from here". I stay here. Almost everyday, I visit this center. Although I am penniless and can not visit India, I feel his presence at this center. I am happy to get his blessing. If any devotee have any inquires , please forward it to me and I will answer.
Vijaya Letchumy, Malaysia
This is a response to the mail of Shri Manthana Reddy Garu about the Vibuthi, which came out of Sai Baba's photo. I would love to have some as a blessing from Sainatha since I am suffering from some health problems and having hard time looking for a job even though I have all the necessary working experiences and educational background. Please email me at vijieshaira@hotmail.com to get my postal address. if you don't mind! Secondly, I am a devotee of Sai Baba for the past 1 year. Since, I have shifted to a new state, I have totally stopped myself from attending bhajans but I do pray at home! Since I am a new, can someone tell me how to do a proper prayer/pooja for Sai Baba?? What are the prasadam that we can offer for HIM? How can I do a pooja in order to get blessings from Saibaba? A Sai sister about a year ago gave me a Sai Baba pendant. I have been wearing it all these while. But please someone tell me, if it is OK to wear it all the time even during my menses? Thank you. May Baba be with us forever!
B.K. Chhetri, Bhutan
Not very many people know about Sai Baba here. I became devotee after I met friend Suresh V from Mumbai who was on short duties to Thimphu. I was really surprised and extremely overjoyed to hear some of his personal experience. I slowly start loving him and today he is my every thing. Last year when I went for short training in Nicosia, Cyprus, I happened to meet him in Dream but he was in very difficult situation. Baba was sick and he was in Bangladesh, the place was under water not drinking water, no food. I woke up suddenly and I could not see him again. May be I thought and still thinking, Baba might be suffering to make us happy. Baba you are great. no one will sacrifice in away you do. I still feel he is Bangladesh, although I know he is Omnipresent. Any sai devotee coming to Bhutan Please call me at 00975 2 322232 or contact me at bchhetri@telecom.net.bt for any help.
Vijay Krishnasamy, Sydney, Australia
I have been reading this Sai Vichaar email for the last few weeks only. Its been forwarded to me by a friend, Varadarajan Ramesh in Sydney, who is a sincere Sai devotee. He also gave me Sai baba's photos to keep in our pooja room and other spiritual materials to read. I pray to Sai baba to bless him always with his Grace. This week when I was reading Ms. Usha's experiences I felt its real and Sai baba's grace. She should accept it with a total surrender (as mentioned by few devotees in the earlier Sai Vichaars). 'Have no doubt if you strongly believe in his grace'. Many people even though good at heart, devotees of any God or Saints, ask/expect materialistic grants from God after their prayers. I have not understood this as wrong as this 'Kaamya Bhakti' is what most of us are capable of doing. Even many of such devotees after their journey in the spiritual path for sometime, have felt that there is nothing more to ask from God then for his/her grace and guidance. So if Ms. Usha is not expecting or asking for any favors from Baba, won't Baba who blessed even the sinners and bad of mankind, shower his grace upon her. I think she should not have any doubts if she gets such experiences, its Baba grace and nothing else. She is gifted. Ms. Usha should totally surrender to Sai Baba, accept whatever he gives to her, and keep walking up in life through his divine guidance. 'All that given to us are given by him, and all that given to us are the best what we are worth for'.
Praveen Panati
This message is for Vijayasree Kumar, San Jose, CA. I read your Q&A towards 'How are Satsangs useful in one's spiritual pursuits'. Do you know of any Satsang activities in the BAY area. I would like to participate in them.


Back to Menu
---
Devi Ramassamie
The daughter of my cousin is seriously ill, since the age of 14 she is sick. Problem started with her throat aching, then, she turned blind, and her health is getting worse day by day. I visited her at the clinic and could not see her suffering. Her mum and dad are like mad people, crying and keep telling me that their daughter is dying...why must she suffer that much!!! and there is no God for them....I think of Baba and beg him not let her suffer, I hope he heard my plea. Please pray for her health.
Srinivasa Rao
I request all the sai devotees to pray on my behalf for my good health as I am suffering from anxiety and tension while away from the family at USA.
Balachander
Baba has been guiding me in my life.... Now I am in financial problem.. I request sai brothers and sisters to pray to Sai for solving this...
Srihari Vezendla
I did not have enough faith in Baba for almost until this January. But now after certain happenings I have starting believing in him. Now I am in kind of trouble. Baba's followers please please pray for me to get out of this trouble there by enhancing my faith in Baba. Pray to Lord Sai Peace be to all.
D. Venkateswara Rao, Qatar
I am a sai devotee from Qatar. My wife is expected to deliver our second baby in the next week i.e around 15th of june. She under went caeserian surgery during the delivery of my first son. She didn't get normal delivery last time. She suffered for 15 days before delivery. She went to India for delivery this time. I am unable to stay with her during the delivery time. I request all the Sai devotees to pray for my wife's safe delivery of our second baby.
Syed Zeelan
I had been a devotee of Shirdi Sai for the past 9 years. I am sad to say that I haven't developed the required confidence in him. Now situations in my life have come to such a position that I am unable to cope up all alone and I feel guilty to approach Baba because I haven't kept enough faith in him even though he has helped me a lot. In fact my current position is because of his grace only. I wasted my time , my life and now I am a helpless child. Today after years of struggle , inner turmoil and disappointments I have taken this decision. I have decided to COMPLETELY SURRENDER MYSELF TO BABA AND GO IN HIS SHARAN. For that I have taken very hard decisions (of course with the consent of Sai. I have this habit of placing chits at his feet and asking his advice). Now I am terrified of moving ahead in the direction which he has advised to me through chits( I always have this fear of failure lurking in my mind).But I am going ahead. I am fully aware that if these are not successful I will be nowhere. But I hate the life I am living which has no faith in Baba. So I am moving ahead. Just pray for me. Pray to Baba to give me strength to follow his advise and pray so that I retain confidence in him forever. I need it desperately. I am starting a new life with Baba totally in charge. Please give me some words of courage that I will not be let down in this act of mine by Baba. I had had enough of uncertainties, failures, sorrows, ego clashes. I want to get back to the loving grace of my Baba. I am terrified to move ahead as I don't have confidence in me and I feel that I have neglected Baba too much that he will not help me. Please pray for me. Please send any replies and words of faith to this address. I will be grateful to you all. My mail ID is bsz70@hotmail.com.
Mala
I want to request all Sai devotees to pray to our dear Sai to bless me with a child. I am sure my Sai maharaj will not disappoint me, He has always been throughout my life with me since I became a devotee of him. He helped me come out of bad companies, blessed me with a fantastic husband, His name is Saravanan. Sainath, please bless him with all happiness and a long life. Baba, please bless us with a kid, I know you are just testing my patience, always you have helped and taken me out from all problems you will do it always, I know Baba you will never leave a true devotee of your, I try to be a true devotee, please bless us with a child Let every body be happy.


Back to Menu
---
Neeru Fotadar - Sai Mandir, Red Hills, Chennai, India
Sri Sai Darshan Trust is installing Baba's Life size statue on 16th of July in Red Hills, Chennai. As per Baba's instructions continuous chanting of Vishnu Sahastranama and Sai Satcharita is taking place there right now. All devotees are invited to come and attend, especially devotees from Chennai. Baba has asked everyone to chant Vishnu Sahastranama and Hanuman Chalisa everyday till Gurupurnima and then write Shri Ram Jaya Ram Jaya Jaya Ram, 108 times. The likhit japa books will be installed under Baba's divya murti. I will be leaving for Red Hills on July 1st, in case someone wants to send finished japams. The number to contact Guruma in Red Hills is 011-44-632-0237.
Shri Shirdi Sai Center, New Jersey, NJ, USA
Shri Shirdi Sai bhajans will be held on the auspicious occasion of " Guru Purnima" and there will also be a Sai Palki Yatra. Place and Time: Knights of Columbus, 116, Grand Street, Iselin, NJ 08830. Sunday July 16, 2000 at 11:00 am till 3:00 PM
Sai Utsav 2000 - Chicago, USA
Shirdi Sai Baba Web Site Organization is organizing Sai Utsav 2000 for three days during thanksgiving weekend in November 2000. Please visit http://www.saibaba.org/saisatsang2000.html for details.
Srimad Sai Raja Rajeshwari Trust, Mysore, India. (Phone Numbers : 510883, 445101)
To meet the requirements of the construction of the Sai Mandir and the spiritual complex, Donations and contributions are requested from Devotees. In this connection a "Anup Jalota Bhajan Program" on 25th June,2000 at Ravindra Bharathi, Hyderabad, India from 11 A.M to 1 P.M. is being organized.
Donor passes of Rs 500, Rs1,000 , Rs 5,000 and Rs10,000 are available with
Dr.K.Subrahmaniyam,
1-10-172, Ashok Nagar, Hyderabad-500020, India.-500020
Ph : 91-40-7635261, 91-40-7670075
e-mail :kalluri@hd2.vsnl.net.in
The money so collected would be used for Construction of Baba's Temple and Spiritual Center. Devotees from Hyderabad and Secunderabad, A.P, India are requested to help the cause by purchasing the donor passes.
SAI SANDESH, Sri Gopala Rao Ravada, Saibanisa, Hyderabad, India.
16th July,2000 , the day of Guru Poornima is very auspicious day for all of us and devotees interested to take part in days poojas and rituals may communicate with saibanisa@yahoo.com further details will be made known to all concerned.
Saidarbar with the following contact addresses have joined and expressed their desire to participate in SATSANGS from the day of GURU POORNIMA i.e.,16/7/2000.
suresh@vaghela.net Saidarbar from London U.K.
shirdibaba@yahoo.com Saidarbar from Orlando U.S.A
a_kandukuri@hotmail.com Saidarbar from Canberrra AUSTRALIA
Please visit http://www.saidarbar.com . for more details.


Back to Menu
---
Usha, Mylapore, Chennai, India
Om Shri Sai Ram - Bow to Sai Maharaj. I am a devotee of Sai Maharaj and he is with our family always, while in distress, in particular. An incident proved that it is HE who could make it possible. We have bought a flat in the city and had cleared 90 % of the loan. The balance 10% was too difficult for us to clear but to our surprise we learnt from the builder that the entire amount has been paid and the key was handed over to us. Is this not enough that SAI MAHARAJ will never let down HIS devotees? Second incident is that my mother had been ill for the past 10 years (a psychiatric patient coupled with loss of vision in both eyes). We were taking care of her like a child. On this Saturday we had offered a shawl to SAI MAHARAJ and while praying both my husband and me prayed that she should not suffer anymore and her end should be peaceful. The next day early hours she passed away. Through this I want all Sai devotees to have shradha and sabhuri and Sai Maharaj will be with us through. We have surrendered ourselves thoroughly to Sai Maharaj and our namaskarams to him.
Srikant Kalluri, Hyderabad, India
A few years ago, my grand father who was the Chairman of a Bank in India was diagnosed with bladder cancer. He was rushed to London for treatment and the doctors had advised my grandfather "Removal of Bladder" to contain the cancer. Things appeared very much distressing. On the night prior to the operation , Sainath appeared in his dream and my grandmother's dream and said " Why get operated ? I have taken care of every thing". Next day my grandfather refused to get operated and the doctors on his insistence ran the investigations once again. Much to everyone's surprise, the tumor seen on the X-ray taken 2 days ago was not seen! This really was Baba's miracle for us all.


Back to Menu
---
"What is meditation?"
Raghu Vissamraju, Newzealand
We will delete the unwanted files from our Computer in order to get rid of junk from our directories, so that it can store more files. We will also install Anti-Virus software to control virus on our systems. We will sort and organize our files in our Computer to make it easily accessible and to make it look neat and tidy. In a similar way, meditation is a tool to discipline our mind. While we meditate we come across so many thoughts pondering our mind. This means that unnecessary/negative thoughts are going out of our mind thus leaving it with more space and tuning it with active and fresh thoughts all over again. Swami Vivekananda in his writings advised especially to students to develop a habit of meditation in order to attain good mind power like concentration and to attain Jnana (Knowledge of the self) and to curb the mind hovering about unwanted junk of material things in life. As the body needs physical exercise and relaxation to keep it healthy a mind/brain needs exercise and relaxation too. Mind is like a monkey. It is very difficult to keep brain completely blank for a moment. But it needs to be kept blank without any thoughts for a while to make it reactivated with fresh thoughts again and inculcate discipline in thoughts. The object on which we meditate vary according to one's likes and dislikes. In Sai-Satcharithra Hemadpanth discussed the need for meditation especially with thoughts about Baba. This is one of the ways of surrendering our senses (Panchendriya) to Guru. Baba also advise his devotees to chant his name and remember him all the time. If we cannot do this at least visualize his physical form during meditation, while doing it for a given time, person meditating, the object for which he is meditating and the object receiving prayer through such meditation unite together and become one at the end.


Back to Menu
---
You may subscribe to receive the newsletter by e-mail. Back to Menu