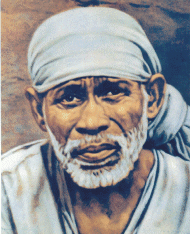 Feature of the week:Dasganu's plight!
It is our nature to enthusiastically share our convictions about Sai devotion with others and expect them to follow the same. Those who have seen the miracles of Lord Sai tend to wish that the grace that they have received should also be bestowed upon others. Thus, every Sai devotee is a Sai servant involving in spreading the love and message of Sai. While some indulge in Sai activities with voluntary willingness, others accomplish the same indirectly by sharing their experiences with Sai. It is natural that the good results of everyone's such actions depend on their capabilities and the extent of their involvement. However, what God wants is the true love and devotion but not the magnitude of their gross efforts! In the great epic Ramayana, the efforts put forth by the squirrel on the sand is considered equal to that of mighty Hanuman. Lord Rama looked at the specks of sands that squirrel contributed to the bridge with the same love and appreciation as that of the boulders moved effortlessly by the monkey God.
Occasionally, an intense participation in spreading God's words and involvement in such service leads some to believe that their service to Sai is superior and not those of others. This leads to feelings of jealousy and hatred amongst Sai children eventually leading to their spiritual downfall. Only Lord Sai, the merciful Sadguru can save those from such eventuality.
Once, Dasganu Maharaj had to face a similar situation. The one that inspired thousands of listeners through his spellbinding Sai gospel, Dasganu was averse to one particular female devotee in Shirdi Village. He used to criticize her in others' presence, some times in a very acrid tone. Once, as Dasganu was indulging himself in such a deplorable act, Sainath Maharaj summoned Dasganu and chided him for his behavior. Baba scolded Dasganu that people involved with God's work must not possess arrogance and that Dasganu should seek forgiveness at the feet of the woman devotee who was the subject of Dasganu's contempt. It was not easy for Dasganu, the most revered kirtankar of his times who commanded respect from his followers, to scoop down and fall at the feet of a woman. However, he had to obey the Great Master and in the process he was reformed to a humble servant of God and not an arrogant apostle who thought himself to be superior to others!
(Source: "Sri Sai Gurucharithra" in Telugu with Explanatory Preface by Sri Sainathuni Sarathbabuji, based on Santkavi Dasganu Maharaj's works on Saibaba of Shirdi in Marathi)


Back to Menu
---
Contributed Article:Vishnu Sahasranama in Sai worship
Contributed by Anitha Kandukuri, Canberra, Australia
Vedas are the direct revelations of the presence of God. Shirdi Sai BABA - living and answering god HIMSELF, time and again reinforced the reading of these divine scriptures to HIS devotees by directing people who approached HIM for spiritual answers. HE asked them to refer to the sacred scriptures like Bhagavat Geeta, Jnaneshwari, Yoga Vasishta, Dasbodh, Vishnu Sahasranama etc, for their answers. BABA emphasized the reading of these scriptures and cited examples from them and created situations to stress on the underlying philosophy of these scriptures. Saibaba's teachings show a significant importance of repeating Hari Naama. I personally consider every follower of Shirdi Sai BABA should and must read Vishnu Sahasranama. I beg your forgiveness for this imprudence, but plead with you to consider this statement in the light of MASTER'S emphasis in Sai Satcharita - the sacred book for all Shirdi Sai followers. In chapter 27 of Sai Satcharita BABA emphatically told Shama to read Vishnu Sahasranama, and said "Oh Shama, this book is very valuable and efficacious, so I present it to you, you read it. Once I suffered intensely and My heart began to palpitate and My life was in danger. At that critical time, I hugged this book to My heart and then, Shama, what a relief it gave me! I thought that Allah Himself came down and saved Me. So I give this to you, read it slowly, little by little, read daily one name at least and it will do you good."
Param Atma, HIMSELF has stressed the importance of this sacred scripture, why should we not follow HIS teachings? We all remember God during times of distress and claim to be HIS followers and practitioners of Sai Philosophy, but do we really follow what BABA has asked us to do? Or is this a mere show, put on for the benefit of the company and people around us? For all of us going through a rough time in our life, reading of Vishnu Sahasranama is an answer for all our problems. Reading this sacred book relieves us from mental, physical and materialistic problems and worries. When hugging this book to the heart of the DIVINE saved the life of divinity, then what sort of benefits would this reading bestow upon mankind?
BABA in Satcharita gave us the antidote for our problems by asking us to read Vishnu Sahasranama and also showed the way to do it as well - by repeating one name at a time. Reading of Vishnu Sahasranama is like reciting a tongue twister, but constant practice and listening makes us familiar with the words and learning becomes easy. Even reciting one name a day would suffice to remove our problems and worries. When such simple solution is present in front of us then why do we go about on a wild goose chase to seek solution for our problems? Let us all take a resolution and start listening or reading Vishnu Sahasranama, let us practice what our MASTER asked us to do. When we read the Vishnu Sahasranama with devotion and faith then understanding the underlying philosophy follows automatically, and this will help man to overcome the hurdles of this world to attain god vision. Let us bow to our MASTER and make a humble start and leave the rest to HIM; HE shall lead us to the pinnacle.

Back to Menu
---
Kishore Rajput
I would like to share my experience with all devotees and ask if anyone else has this experience which I have experienced, I fast every Thursday and knowing this is the day of the almighty it makes me proud that Baba has given me this opportunity, When I wake up in the mornings on Thursdays I always have two circles on my left hand, the first one is approximately 1.5inch in diameter and the other one lies inside this one approx half an inch in diameter, Last night when I went to bed I thought will I have this again in the morning?, during the night I dreamt that I was doing my daily pooja and was looking at Baba's photo, suddenly a bolt of power came and Baba was talking to me, he was in orange and looked divine, suddenly a piece of paper appeared which was gold with gold writing, it had a mantra or pooja on it, Baba was saying the words and I was repeating after him...when I woke up in the morning I looked at my left hand and the circles where there, I rushed to my mother's room and asked her to look, she did and prayed to Baba as I was stood in the mandir at home, I would like to know if anyone else has experienced this.


Back to Menu
---
A Sai devotee
Faith and Patience: Dear SAI devotees, BABA has asked for only 2 things from all of us. Have Faith and Patience. You might say this is easier than done but wanted to mention that we have ourselves gone through a lot of testing times. Our GC was delayed (twice). It took almost 8 years to get our GC. We did not have child for many years after marriage. Lot of our friends got GC's and also bought homes. All through we did not loose Faith and had Patience. Now things are falling in place. Just we have exams to get a degree. BABA has exams for us in our daily lives. So dear Sai devotees have Faith and Patience. BABA will take care of all us.
Viji Patil
Thank you, Saibaba. You protected my father from a life-threatening situation while we were in Shirdi. Please forgive me for not wanting to go to Shani Shingnapur initially.
A Sai devotee
Om Jai Sai..Thank you Baba for everything you are doing. I was in a terrible plight seven months back. It seems to be a nightmare to me when I think of it. Thinking and praying to you has been the only source of hope and compassion. Reading your Satcharitra everyday has bought peace and happiness to me always. Please continue to shower your blessings on one and all ... Please forgive me Baba if I commit any mistake. I am trying to change. Keep me away from evil people and evil minds. Lead me to path of peace, brotherhood and righteousness. I always chant your name...Give me strength to withstand all ups and downs of life. Jai Shirdi SAI BABA. I love you Baba!
A devotee
Dear Baba, I just could not believe what happened, it was a total surprise. Thanks for it Baba, but just that it is hard to take it like this. So feel bad at times. Help me to come over this Baba, as I know what I wish for can never happen. Baba you know everything. Please help me, these I can't say to anybody Baba. It just remains between you and me. Baba please be with me Baba. I've given up everything to you Baba.
A Sai devotee
I am very saddened to read about a Sai devotee and her plea for her in-laws. If we call ourselves Sai Devotee we must rise above these patty things. We must think and do things beyond this body levels. My dear sister, put yourself in your in-laws shoe and think how would you feel when your own son or his wife think about you the way you think of your in-laws. It is very painful that you think this way and at the same time call yourself Sai devotee. Think about your own parents if your sister in-laws think about them exactly the way you think about your in-laws. Would not you be pained. Please give up these types of ill feelings and do good service to anyone and everyone. It was very hard for me who do not know you or your in-laws personally but as a Sai devotee, I cannot imagine your husband's reaction about your views. I hope and pray to Lord Sai that he did not read your article in the Sai Vichaar. It would hurt any decent human being a lot. Please be good, see good and do good to find the royal road to Sai. May Lord Sai bless you with wisdom, compassion, understanding and more important LOVE. REMEMBER ONE THING THAT WHAT GOES AROUND COMES AROUND. Therefore, be good, have sacred thoughts, pray for those even who harm you like a Sandal Wood Tree, that gives its fragrance to the same saw that cuts it down. You must be kind and loving to anyone and everyone to earn His Grace as He dwells in all His creations, in all human beings. Try to see Lord Sai in your In-laws form. Everything will be fine when you start practicing His teachings.
Bindu
To the devotee who wrote two weeks before about the in-laws going to get green card and settling with you, You can talk to your husband about your displeasure in this matter first. Also try to talk with your brother in laws and sister in laws about your concerns. You can offer monetary help to your in-laws. If others can take care of your husband's parents happily, why you have to take the burden? First of all be truthful in your words and thoughts. Also speak with your husband's parents that you need some special time with your husband alone. Since they are very old, they should have the wisdom to understand you. First of all they have to make adjustments to make his son's life happy. Also they have to think that giving happiness to their daughter in law is to make his son's life easy. When you become old you don't need much privacy. But in Indian standards, most old people think that the daughter in law has to be their servant and she has to suffer. My mother and mother in law are an exception to this. I can see them making us happy in all possible ways. In return they get love respect and happiness. I have friends whose mom in laws help them and shower love than their moms. They are talking about their in laws with respect and love. You have to think some ways to convince them what makes you displeased. Also do appreciate whatever good things they do. Read a book about how to handle people. Baba will always help you.


Back to Menu
---
A Sai Devotee
I am praying you since long time. I know that you are with me. So, please SAIBABA, please remove me from this country and send me back to INDIA.I cant stay here any more. Please SAIBABA, send me back to INDIA and give me opportunity to serve my parents. I can't stay here leaving my parents. Please SAIBABA, I know that in the past I have committed so many mistakes. Now I realized those mistakes. Please forgive me SAIBABA. Get me a good job in INDIA. Please SAIBABA, send me to INDIA with in this year only.
Julie
I have just come to know that my husband's business is not doing very well. I use my salary to run the house but I can't manage and I keep borrowing money to run the house. Please pray for me that his business must do well and I must try and budget myself with my salary. We have just bought a new house and I want to live a happy live. Please pray for us.
A Sai devotee
My son as started a new job please guide him and pray that he will work well. My daughter has finished her course in business management and I pray she will get a job so that she will help her father. Please keep us in your prayer.
Sai Devotee
My respected Bhagwan Sai, Please give me an opportunity to serve the society in a spiritual sense. Show me the way. You know what runs in my mind. Help me do what I want to do.
Meena
My dearest Saibaba, Why it is happening like this? If I have done something wrong, please forgive me. I should really thank you from the bottom of my heart for whatever you have done for us please listen to my humble prayers and get my daughter married soon she will be 29 soon, I have full faith my prayers will be answer soon.


Back to Menu
---
Quotation of the Week
"Greed and spirituality are poles apart; they are eternally opposed to each other. Where there is greed, there is no room for meditation of the God (Brahman)"-Saibaba of Shirdi


Back to Menu
---
Q.What is Baba's dictum in performing rituals?
A. by Ram Narayan
The beauty of our wonderful Lord Sai is that he attached no significance to mundane rituals while praying to him. 'He never prescribed any Asan, regulation of breathing or any rites to his bhakthas nor did he blow any mantra into their ears' - Satcharitra Chapter X. He asked of his devotees only two things - Faith and Patience. I get immense pleasure just by remembering him as 'Sai, Sai' all the time since I am not aware of detailed Hindu rituals and in my experience I have seen our Sadguru Sai's miracles in many daily events of my life just by chanting his Naama japa. One of the songs in our bhajans on Thursdays at Sai Mandir goes as follows - 'Sai Naama Sukhadaayi - Sai Naam ke do akshar mein sab sukh shanty samaayee' _There is so much joy in Sai Naama - there is so such peace in Sai Naama. I request all my Sai bandhus to mentally chant Om Sai wherever they are and get the blessings of our revered Lord Sai. Om Sai.


Back to Menu
---
Shirdi Sai Baba Prayer Center, Kendall Park, NJ
Saibaba.org invites you to join for Sai puja, bhajans, Saicharitra readings, aarti and prasad every sunday at Durga Mandir,Kendall Park, NJ from 11am-1pm. For further details or directions contact Kumad Sachdev at (732) 257-1438, Shyam Addanki at (610) 648-0191 or email us at maildrop@saibaba.org.
Shirdi Sai Baba Prayer Center, Twin Cities, MN
By the grace and blessings of Sadguru Sainath Maharaj, Shirdi Saibaba Prayer Center has started for the benefit of Sai devotees in the Twin Cities and surrounding areas of Minnesota at 725-139 NE Lake Street, Hopkins, MN. The program will include Sai Bhajans, Kirthans and Sai Naama Jap. For details, please contact hamaresai@yahoo.com. Or call Sangeeta (651-481-6782), Kiran (952-233-1819), Ravi (651-342-0600) Bhuva (651-681-2042) or Sathya (651-739-2105)
Shirdi Sai Baba Chitra Yatra And Weekly Satsang, Canada
Shri Shirdi Saibaba Sansthan of Canada, Toronto cordially invites you all to for Thursday satsang at the following 2 locations: Durga temple., 2691 Markham Rd. Scarborough, ph: 416 754 2983 and Shri Vithal Hindu Mandir., 5359 Timber Lea Blvd. Mississauga, ph: 905 238 0946. between 6:15pm to 7:15pm.
We invite all devotees in Canada to join us in celebrating "Shri Ramnavami festival 2003 in Toronto. Devotees joining from outside Toronto looking for accommodation please register by 25th of February - devotees interested in volunteering or those interested in offering bhajans to Baba pls call Shammi Chopra 416 402 8089 from 7 to 9am or after 9pm in the evening.
Shri Shirdi Sai Chitra Yatra in UK
Devotees may participate in Shri Shirdi Sai Chitra Yatra currently underway in UK. To invite Baba to your home and for further details please contact Manu Bajaj at bajaj_manu@yahoo.com or call at +44 7905 933 489 in Wembley, UK
Shri Shirdi Sai Chitra Yatra in USA
"Shri Shirdi Sai Chitra Yatra(Pictorial Journey)", started in USA on Jan 01, 2002. With anchor points across USA concurrently participating from day one, this unique event is off to a great start.
The journey which involves the ceremonial travel of Baba in the form of a portrait will stop at all Baba devotees homes who are interested in being a host to his protrait. The Yatra which will run till fall of this year, is open to one and all. There is no fees or charges involved to take part in this event. You may participate either as a host home or serve as an anchor point in your community.
Vist online at yatra page for all the details and to register.
For questions, comments, suggestions or to get details on an Anchor home in your area, send us an email at maildrop@saibaba.org with the subject line of "Shri Sai Chitra Yatra".


Back to Menu
---
You may subscribe to receive the newsletter by e-mail.
Back to Menu
---
Back to Menu
---