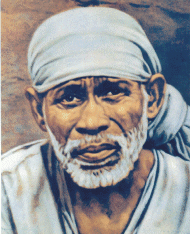 Feature of the week: The Pope and the President
Is spiritual life the same as the material life or are they different? What constitutes a life that dwells in spirit and what is material life? Although Baba didn't elaborate on this topic just as He did not dissect on any other topic at length, one encounters this discussion frequently.
It is an observation that the young are often discouraged to pursue any spiritual activity as it is deemed that it is not as much a priority as earning a livelihood. Thus, spiritual pursuits are often pushed towards latter stages of life. To dissuade this thought, it is said that one need not differentiate the spiritual life from the way we live our everyday lives. To this effect, it is said that one should spend whatever time he/she could in the thoughts of Sadguru as one goes about the ordinary life. As the distinction is blurred, the life itself becomes a harmonious blend of the self and Sadguru. Is there anything more?
Everyone is entitled for Baba's grace. But, do all get the same benefit? Baba Himself quipped that if every flower on the tree comes to fruition it would be a bumper crop. But it doesn't happen. The thought that material life and spiritual life is one in itself is a revelation, a comforting assurance that would help one in looking at life in its perspective. Does this mean that the material and spiritual lives are same, meaning there is no difference? If one were to observe carefully, argument that there are no differences between spiritual and material life denotes an intelligent yet subtle justification to the material pursuits that are always in conflict with the search for the spirit!
Spiritual or material, it is one life. Attempting to differentiate is a futile exercise because it is neither possible nor appropriate to draw the line. However, as one progresses in the path of Sadguru, the changes in one's life should be evident as every interest revolves around Sadguru; around His likes and dislikes, and approval and disapproval. When the life is in complete tune with Sadguru and none else, such a life is completely spiritual and not material. Just like one cannot travel on two horses riding in opposite directions, one cannot expect to lead a material life to its fullest fulfillment and yet accomplish the spiritual goal. While it is not relevant to discuss the importance of each of the functions in this context, what it takes someone to become the Pope is different from what it would take to become the President of a nation.


Back to Menu
---
Contributed Article:Bhaja Govindam Sloka 31
Gurucharanaabuja Nirbharabhaktah
Samsaaraadachiraadbhava Muktah
Sendriyamaanasaniyamaadevam
Drakshyasi Nijahridayastham Devam
Bhaja Govindam, Bhaja Govindam.....
Meaning:
Guru charan ambuja nirbhara bhaktah - great devotee of the lotus-feet of the teacher, Samsaarat - from the samsaara, Achiraat - soon, Bhava muktah - become liberated, Sendriya maanas niyamat - through the discipline of the sense organs and the mind, Evam - in this manner, Drakshyasi - you will experience, Nija hridayastham - that dwells in one's own heart, Devam - the Lord.
Substance:
O devotee of the lotus-feet of the teacher! May you become liberated soon from the samsaara through the discipline of the sense organs and the mind. You will experience (behold) the Lord that dwells in your own heart.
Commentary:
Our body is the temple and the Soul is God. It is our duty to keep both the body and the Soul pure by guarding them from defilement. There are several means suggested by our great ancestors, which are valid for all times. These suggestions were time tested and proven beyond doubt. It is our duty and utmost endeavor to put them in practice. While making mental obeisance to these great masters and personages, we should resign ourselves to the will of God. It is the practice in Hindu tradition to learn any sacred scripture at the feet of Guru in Gurukul. The disciple used to put his complete faith in the Guru and the Guru used to free the disciple from the vagaries of birth and death. Such was the sacred bond between the Guru and Sishya. But, time has changed and in the present day world, it is very difficult to get a competent Guru and a sincere disciple. With that, the practice of being directly instructed by a guru has almost ceased. Under the present circumstances, I personally feel that there is nothing wrong to treat the photo of Ishta Daivam, holy book or a temple as Guru, but the only important condition is earnest desire and complete devotion to obtain liberation.
Faith is the secret power in the human mind to hold on to what one intellectually believes and not yet come to experience in one's life. Faith in God and faith in the wisdom of Guru are most important for the disciple to become liberated from samsaara soon, because once surrendered to the lotus feet of the Guru, it is his burden to guide the disciple until he reaches the destination. But, the disciple, on his part, has to obey the Guru, manasaa, vaacha and karmana so much so that he firmly believes that Guru is God. Sincere adoration and devoted surrender to the Guru are the most important ingredients. While establishing such a firm faith in Guru, the disciple has to control his sense organs and the mind to experience the Lord that dwells in one's own heart.
(Contributed by Paritala Gopi Krishna, New Delhi, India)
Contributed Poem: Nahin Aata..
Nahin aata Shirdi Sai ka bulava
Jab tak dil mein sachhi aas na jage
Nahin aata Shirdi Sai ka bulava
Jab tak acchee karmonka ghada jyada na ho jaye
Nahin aata Shirdi Sai ka bulava
Jab tak moh maya ke bandhan se chhuut na jaye
Nahin aata Shirdi Sai ka bulava
Jab tak gurudev ka aashirwad na mil paye
Lekin jab aata hai Shirdi Sai ka bulava
Hazaro sankatonse nikal jata hai rasta
Panchhiyon ke jaise jab udkar jaate hai
Ek hi lakshya samne nazaar aata hai
Sharan mein Sai ke jab aate hai
Sudh budh khoke Sai mein samaa jaate hai
(Contributed by Aparna Sanghvi)


Back to Menu
---
A Sai devotee
I wanted to share my experience with the fellow devotees. We went to Shiridi with a lot of struggle. The bus was not good and we were put into other bus. We reached Shirdi by 9:00 Am. My Son had offered his hair to Shree Sai Maharaj. I had given my hair. We had a darshan by 11:15 am. I wanted to go to any aarathi but only Madyahana aarathi was available for as we booked our bus tickets to return the same evening. There were two entrances to enter to Baba's madyahana aarathi. The guard at the entrance told us we need a ticket day in advance to get inside the aarathi hall or we have to go into the regular darshan. The regular darshan line was so huge there was no point of participating Aarathi if we stand in that queue. I was so disjointed and prayed god that somehow let us participate the aarathi. We waited two minutes there only. Two gentle men came to us asked us they are only to attend the aarathi and seven people can go and attend the aarathi and They offered us by saying that If you want, you 3 can join us. I was so happy and I thought that Baba let us in. He only sends those two gentle men to us. I joy was boundless. We accepted for their offer and thanked them many times. They said it's not their will and it 's god's will. We had entered to the aarathi hall with those two gentle men and we had a great darshan as well as we participated in aarathi. We had darshan again by 3 PM and returned the same day. Baba had listen to my prayers. Baba please listen to my and my husband's prayer's also.


Back to Menu
---
Kanagasabai
Dear Devotees, recently when I met a new friend who is normal religious person and start talking about Sayin maharaj, he said "you (me) praise Shirdi baba, he is wondrous when you ask or expect his help desperately and if you pray to him he comes and helps through some one whom you may not related to you or you may not have seen him before.... such a wonderful saint". I used to wonder what sort of experience he had to say like this. This is a good thought every devotee has to think and analyze and praise and bow to the lotus feet of Sayin maharaj.
Vijay Kumar
It has been a strange incident that made me start reading the sai articles and finally led me to submit one. There is a very good friend of mine who is a sai devotee, one day when we were back from office, she gave me a set of papers and asked me to read. Some how, I felt to read them once and I really don't understand what drew me into that but, since then, I started eagerly waiting to read more and more Baba's newsletters. Finally, thought of contributing something to this newsletter. May be, this is the one Baba wants from me.
I don't have anything from my side to pray but a sincere request to all the people who read this newsletter. If we are facing difficulties in our lives, it's just that the almighty is testing us how well we can fight back for our survival and win over all the difficulties. And, he wants us to do that and prove the metal we are made. Let us try our level best to get rid of all our difficulties and it is by default we have Shirdi sai to back us if we fail to perform the job. I sincerely request the almighty to pull out all his devotees from all the troubles they have so that they lead a pleasant life and help others too. This is my first contribution to the newsletter. So, please correct me if I went wrong anywhere. Next week I'm visiting Shirdi for the first time, and my heart is much filled with excitation and no words to explain that. Waiting for the day to come soon..
A Sai devotee
To all my brothers, I have a big question to ask. In this world, we have come to pay for our good and bad karmas, but everyday we do other good and bad karmas, so when do we finish this cycle. God does not always listen to our prayers for materials needs, but does He listen to our spiritual needs, or is it us thinking He does and feel Happy.


Back to Menu
---
A Sai devotee
Dear Baba, I know how much you are helping in my life. Every minute with out your blessings, I cannot survive in this world. Baba you know right now how much I am struggling for one thing. Please Baba help me and give me energy to solve that. Without your help I cannot do that, please I need your blessings.
Sai devotee
Om Sai Ram, Baba, I am going through a typical type of uncertainty in my life. I strongly believe you please help me, show me the right path. Let me know how a man can be different in his spheres of life such as personal and official.
Krishna Alluri
Dear Sai Baba, I have been begging you so much, why aren't you helping me. I feel so glad to see all the devotees here happily relating their experiences, when will you give me a chance Baba? May be I am not as big a devotee of yours as all the other people but won't you give me a chance Baba? Everybody says that Sai doesn't turn anyone down, so why am I being turned down Baba? Didn't you promise all of us that once we cast our burden on us you would bear it? So why do you break my heart Baba? I have been crying before your picture since years...Baba when will I get to see your kripa? Dear Devotees, please pray to Baba to answer my plea. I beg you all...Thanks.
A devotee
Baba please let my husband get the job, which I applied, for him. Please Baba this job will really brighten his future. Be with him and shower your blessings on our family always.
A Sai devotee
SAIBABA I know that you are with me. Please SAIBABA, get my brothers wish fulfilled. Please get him out of the troubles. Also, tell me whether I am doing right or not.
M.Balasubramanian
Dear Sai, I take this opportunity to offer my heartfelt thanks and namaskarams for always being with my family and me. Baba please be with my wife and us as she is having some pain in body. Bless her to recover completely and make her have a good health. Be with us always and give us the courage to face this difficulty and give her very good health for her, my child and all my family members. I trust and believe in your omnipresence. You are our savior. I beg to you baba to give us good health. I lead my life only on the believe that god is with me. Thank you baba .be with us always. With lots of love and namaskars.
A Sai devotee
Hari Om jai Sai Ram ji, please Sai Baba listen to my prayers get my daughter married soon, please forgive me for all my sin and make me a good person, always be with us.
A Sai devotee
Om Shri Sai Ram. Sai Ram please forgive me for any mistakes I have made, I love my family and want to do the best as a Father and a Husband, we are looking for another house to get away from all the family problems, there is to much hate in the house at the moment, its the only way forward, to keep everybody's mind at ease, BABA, will I be ok, it is the biggest step in my life, I pray to you every day, please listen to my pray BABA, please help me BABA, all I want is for everybody to be happy, and I want the hate to go away from my family's minds. BABA, I don't want to fall under debt, as long as I am stable, and provide for my family BABA that is all I want, please BABA help us get through this.


Back to Menu
---
Quotation of the Week
"He kicked out Maya and Mukti was serving at His feet" - Sri Hemadpanth in Sri Sai Satcharita


Back to Menu
---
Q. How do devotees depend on Baba in their daily lives?
A. by A Sai devotee
Baba is my life, my existence - that in essence is what Baba means to me in my daily life. Anything good that happens is His Grace and anything bad is my fault, that's how I see it. By bad I mean what we human beings, with our limited knowledge, perceive as bad. Most times, what we consider bad is something good for us; only thing is we don't know it. I have placed my life in Baba's Hands and He will do what's best for me and what my karma deserves. I consider myself blessed as I have seen so many of His Miracles in a short span of time. The blessings Baba has bestowed upon me are too many to recount and they are a treasure that I cherish in my moments of solitude. Seeing people through the light of His teachings in the Satcharitra is the only proper way to live and claim to be Sai devotees. OM SAI SRI SAI JAI JAI SAI.


Back to Menu
---
Shri Sai camp in Nashik Kumbh
Under the guidance of Guruji Shri C.B.Satpathyji, a camp of Shri Shirdi Sai Baba has been established during the period of the Kumbh Mela in Nashik. The Kumbh started on July 30th, 2003. During the camp days daily annadan, bhajans, Shri Sai satcharita parayan, palkhi procession among other activities will be conducted at Shri Saibaba Mandir, Panchvati, Nashik. For full coverage of the camp, please visit www.saibaba.org and follow "Shirdi Sai camp at Kumbh Mela 2003" link.
Shirdi Sai Baba Prayer Center, Twin Cities, MN
Shirdi Saibaba Prayer Center invites all for Sai Satsang on Saturday August 16, 2003 in Shirdi Saibaba Prayer Center located at 725-139 NE Lake Street, Hopkins, MN. The program includes Sai pooja, Satcharitha Parayam, Sai Bhajans, Kirthans, Aarthis and a discourse on Saibaba, "My bones will speak from my tomb", by Saibanisa Sri Gopalarao Ravada of Saidarbar, Hyderabad. For details, please write to hamaresai@yahoo.com. Or call Ravin Gnanasambandam at 763-862-3910 or visit www.hamaresai.org.
Shirdi Sai Jalaram Mandir, Houston, Texas, USA
Shirdi Sai Jalaram Mandir, Houston, Texas, USA cordially invites you for Thursday satsang at 6.30pm and discourse by Mr. Gopal Rao Ravada, Saibanisa, on Aug 2 & 3 at 6pm & 5pm respectively at the following location: 5645 Hillcroft, Suite #304, Houston, Texas, 77036. For more information call (713) 789 486, (832) 567 7861, (713) 992 1453 or send an email to: baba@babamandir.org.
Shirdi Saibaba Sansthan of Canada, Toronto
Devotees in Toronto invite you all to join in our weekly Satsang every Thursday. Due to certain limitations, we are temporarily moving the venue for Thursday prayers from Durga Temple. For details on Chitra yatra, location of Satsang and other information please call 905 887 1752 or email at saileela99@yahoo.com
Sai bhajans in Orlando, FL, USA
For information on Shri Sai Bhajans at Orlando, Florida, please call 407 445 2520 for more details.
Shri Shirdi Sai Chitra Yatra in USA
"Shri Shirdi Sai Chitra Yatra(Pictorial Journey)", started in USA on Jan 01, 2002. With anchor points across USA concurrently participating from day one, this unique event is still continuing with great enthusiasm across many states in the country.
The journey which involves the ceremonial travel of Baba in the form of a portrait will stop at all Baba devotees homes who are interested in being a host to his protrait. The Yatra is open to one and all. There is no fees or charges involved to take part in this event. You may participate either as a host home or serve as an anchor point in your community.
Visit online at www.saibaba.org and follow link to yatra page for all the details and to register.
For questions, comments, suggestions or to get details on an Anchor home in your area, send us an email at maildrop@saibaba.org with the subject line of "Shri Sai Chitra Yatra".


Back to Menu
---
You may subscribe to receive the newsletter by e-mail.
Back to Menu
---
Back to Menu
---