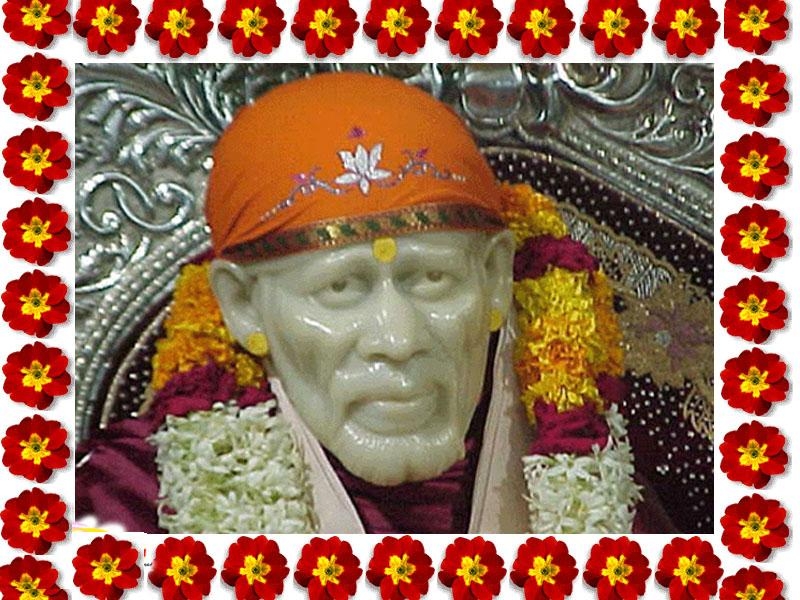 Feature of the week: How Baba does it?
Faith in Saibaba slowly leads one to believe that Baba is behind the things done or undone. This realization works easy when the things happen to one's satisfaction while it falters if things are not pleasing. The path to the complete surrender at Sadguru's lotus feet chops away the difference between the pleasant and unpleasant.
If one completely understands how Baba's intent or sankalpa translates to tangible actions to its minutest details, contentment naturally fills in the heart and as the consequence equanimity. Rare and great are such souls. Or, if one would say that somehow Baba will do it, is indicative of a blind faith in Sadguru's disposition. This is a feeling that rain or shine, it is Baba! Any trace of ignorance in this regard will be washed away in the constant company of the Sadguru. But judgments of others actions such as "what does he or she think he or she is doing? Its all Baba's doing", is blatant arrogance. One can easily understand this feeling with a little bit of contemplation. These thoughts should be nipped in the bud, as they are signs of spiritual falling.
Baba didn't materialize anything out of thin air. Baba's "miracles" happen through people and situations in our surroundings in the most inconspicuous ways. This truth is articulated in the most eloquent way by Sri Sarathbabuji as follows: "Miracles of Sai do not take place as something falling from the sky. We experience it through mercy, compassion, and protection from those around us in a natural way. We pray to Baba, "Baba! I need money". I am in difficulties". We offer naivedya to Baba and go to bed, but we do not see Baba keeping a lakh rupees under the pillow! Someone will come to us and suggest a solution to our problem. Baba Himself said, "Not a single leaf moves without my order". When the wind blows, the leaves on the tree move. When even the movement of a leaf from an inanimate tree requires Baba's order, His intent and grace, how can we think that everything is in our hands? When this awareness crops in us, the ego that makes us think, "We are doing something, we have to do it, we have to accomplish and we have accomplished because we have done something", will vanish. The realization that "He does everything. And we are not capable of doing anything" is called as "Complete Surrender". However, this should not become the dry and wry philosophy of uttering around, "Its all Baba's sankalpa, what do I have to do? He has done it". The cognizance of "complete surrender" should remain as just an inspiration, a background to the pursuit of our desires, ideals, and trials. Unless we get to completely experience the intent of Saibaba in every action, we should not use the term "complete surrender" for our convenience".


Back to Menu
---
Contributed Article: A Miracle by Sai Baba
My father Sri B.V.Sathyanarayana was suffering from brain tumor for the past two years. On 16th April 2004, Friday afternoon he had convulsions and we thought that the end was near , my mother myself and my wife tried all sorts of remedies to control his convulsions but was vain. Around 2.00 pm I gave my father Sai's vibhuti with water by placing the vibhuti water at the lotus feet of sai baba and prayed to Baba that if the end was near take my father sould to his heavenly abode till all my brothers and sister are with us. And behold Baba's miracle, my father left for his heavenly abode on 23rd April 2004 early hours of morning i.e. 4.15 am.
When my father was suffering in the Hospital his whole body was having rashes. But when he left for his heavenly abode and when we brought his heavenly body to my residence there was radiance and smile in face. Such are the miracles of the Omnipresent.
(Contributed by Vinod Kumar)
Contributed Article: Miracles of Baba
OM SAIRAM. I thank Baba for giving me an opportunity for sharing my experiences of Baba with all of you. Since last 7 years to till now have so many Shri Saibaba Miracles. In my Family there is problem of marriage life in my brother for 2 years after he has got marriage, it solve by Shri Saibaba only because it is very difficult to convey opposite party and that girl for come back to home from her home or for divorce during last 2 yrs. Through Shri Saibaba miracles she came herself last year in May and agreed to get a divorce without any meeting of members or requiring any money.
Another is a recent miracle. My father's leg was injured through bike on road that time on 26th Feb 2004. I was very upset and worried about my family. My sister and I went to the hospital in an auto. I really feel it was a very great and wonderful day. Till I was 26yrs I had never heard about Saibaba Songs in Autos, but that day we sat in auto and in that auto was playing a Shri Saibaba miracles Songs. We reached one signal on road and I saw Shri saibaba picture and prayed that, please don't make a situation so that we have to borrow money from others for my father treatment. We reached the hospital. My father's friend and one client came within few minutes and the client put 5000/-Rs. on bed of my father in hospital .He gave work to my father, but my father was not do his work. I felt Sai baba really heard my prayer. The Hospital charges on the discharge day were nearly 5000/-Rs. Another miracle that recently happened was when my sister's in laws had problems with her. On 16th April, which is a Thursday I prayed to saibaba to solve it. Saibaba heard my prayer and once again she is staying with jijaji and her in-laws. It is very difficult to convince jijaji, his brother and his mother, but Saibaba convinced them through my prayers. Saibaba is with us at each moment of life. Always keep our mind with him with a pure heart.
(Contributed by Daughter of Saibaba-Manisha)


Back to Menu
---
A Sai devotee
SaiRam, from my childhood I have been a strong believer in Shirdi Baba and I'm ever thankful to Him for always being there for me as well as for all His devotees.
I would like to share with all Sai devotees a wonderful experience I had sometime back. It was a Saturday afternoon in February 1999 in US. I watched a movie in a theatre and was driving back home. All of a sudden, it started snowing heavily and visibility was poor. The freeway was very slippery due to continuous falling of snow. Though I was careful, my car skid and the front wheels were stuck in the snow accumulated on the shoulder. Luckily my car did not hit anybody neither did it block the passing traffic, as it was stuck on the right shoulder. I was not carrying any cell phone at that time, but I had a small photo of Baba in my car. I prayed to Baba to save me from the situation, changed the gear and slowly tried to pull the car out of the mess. After a minute or two, a police patrol car came down and parked few feet behind my car. Out stepped an aging policeman in his late fifties, dressed in white and having gray hair & white beard, he walked to my car and asked me if I was doing OK. He helped me pull my car out. I thanked him for coming to my rescue. Then he advised me to take the next exit and drive through another route. I told him that I was not familiar with that route. So he assured me that he would follow my car from behind to make sure I would go in the right direction. Then I drove slowly on the slippery freeway to the next exit, with the policeman following me from behind. He followed me for sometime until I reached the intersection where my apartment was located few blocks away. He then waved to me, took another turn and disappeared in the traffic. I reached home safely and offered pranams to Baba's photo in my house.
B Subrahmanyam
I wish to share my experience with other sai devotees. We are performing our elder son's marriage on 12th. I had sent the first invitation to Baba. Today while performing the thread ceremony, Baba came to the function asked for Rs.11/-and said that he didn't come for lunch but only wanted Rs.11/-. My second son was the luckiest to have experienced this. Baba did not wait for others. When my son asked my wife she came and gave Rs.11/-. I am sure Baba will attend the marriage on 12th.


Back to Menu
---
Sheeba Ramachandran
Om Sai Ram! First of all, I would like to thank you Baba for always being with us and helping us out at the moment of crisis. As you know, last week I had the ultrasound scan and everything seemed to be fine with your grace, Baba. I wish and pray you take care of my health in future and I have a healthy baby. I also have another request that my parents should not have any hassles in getting their visas stamped. Baba, also take care of their health. Baba bless my family with health and happiness and all who need your help. Om Sai Shree Sai Jai Jai Sai!!
Seema Bhal
Dear Fellow devotees I would like to share the experience of my sister during her recent visit to Shirdi. Upon reaching Shirdi they went to Samadhi Mandir for Baba's blessings in the evening before the DHOOP Arti & they were rushed out of the temple as the Arti was about to start, once out of the temple they were feeling dejected as they did not get much time inside the temple. All of a sudden a gentleman comes to them and requests that he has 2 VIP Passes for the Dhoop Arti if they want to attend and escorted them (my sister and Brother in Law) to the VIP entrance. My sister and brother in law were so happy to see Baba's this miracle.
Shweta
I am a new member of "Sai Vichaar" and from 2 years, I am a devotee of Sai Baba. I went to Shirdi when my parents were looking for my life partner (3yrs back). My mother always believes in Sai Babaji, however we children believed that he is only one of the Gods in our home temple.
But after my marriage and when my daughter born last year in Canada, she had a problem by birth that her heartbeats skips sometimes. She was in hospital for 10 days and I didn't even take her in my arms as Doctors kept her in machines and all test were going on. My mom was there at that time and she brought Sai Baba "vibhuti" from India, and then she put a little bit on my daughter's heart. Next day Doctor came and after checking every report and readings he discharged her at noon. Now my daughter is 16 months and she has no problem at all. So after that incident I strongly believe in Sai Baba and started doing puja and chalisa on Thursday.
Sai Baba now we are looking to buy a home so please help us in this matter. Sai Baba bless everyone. Jai sai babaji.
Srinivas Varanasi
Oh Lord Sai! Thank you for your divine blessings. I got a job offer yesterday by your good grace and readily accepted the offer to start my new job on 20th May 2004. Please shower me with your blessings so that I perform my job beyond the expectations of my superiors and earn a good name, fame and money. I am starting off my practice of my Excel skills today. Please see that I master it and use it in my job very efficiently. Thank you Baba for your blessings. I have total faith in you. Please guard and bless my family all the time.
Sudhakar
Dearest Shree Sai Baba, Jai Sai Ram, Baba as you are aware my wife has entered to the 8th month. Baba, bless her with a normal delivery without any complications. Baba, please take care of my wife's health. Let everything will be normal. Bless us with normal and healthy baby. Baba, always keep your hand on our head.


Back to Menu
---
A Sai devotee
SAIBABA I know that you are with me through out my life. You saved me in so many difficult situations. Please save me now also SAIBABA. Please see that everything should go well.
Sai devotee
Dear Sai Natha, please bless me with a child soon. You know what I am going through. Please lift me up from this pain. Please be with me and bless me with a healthy child soon Sai. Dear devotees please say a word of prayer. Thank you Sai.
Tulsi
Om Sai Ram, I am surrendered and your lotus like feet. Please forgive from Mistakes and since I have committed. I have full faith in you. You know what is troubling me and what is happening with me. You are the only person to resolve it. Give me strength to face the things that comes. Please bless me. Om Sai Ram
Romi Kanungo
You have looked after through thick and thin .You protected us in our neediest hour, you have forgiven us for all our sins. You gave us shelter when every one deserted us. Please keep on looking after us. for that we thank you. Please keep us always at your feet, guide us through this world, and protect us from greed. Please help me Baba to come to terms with life and save me from the everyday worry. Help me so that I can return to India and be at your feet.
Gauri
Baba, I am one of devotee of yours and you have been always there for me. I am having the problem of proper home could you please help us to build one proper house with all basic needs. I am feeling really odd. Please, Baba help me. I beg you.
Vinod Kumar
I pray to Baba to keep my family and myself from greed and keep my wife healthy as well as my two daughters healthy and intelligent. As per our south Indian customs we cant visit any holy places till fathers 1st death anniversary. Is it not possible to have darshan of Sai Baba at Shirdi before the anniversary?


Back to Menu
---
Quotation of the Week:
"Whatever creature comes to you, human or otherwise, treat it with consideration".-Saibaba of Shirdi


Back to Menu
---
Q. "How we stay away from evil people when God wants us to stay under the same roof?"
A. by A Sai devotee
Why the lions and deer are together in the jungle? Why the eagles and birds are flying the same sky? They are predators and preys to each other. These questions can be answered by simply saying it is the law of nature. But, when it comes to humans, they are perplexed with the question why good and bad are together. This type of thinking shows that man is endowed with intellect or discriminatory wisdom, unlike animals, which have only instinctive abilities. Some times, we wonder what wrong we did to stay with people who have no respect for code of conduct or no care for others. To explain this paradox scriptures quoted the word "poorva janma karma." That means all of us have come into this world with certain credits and debts. Until the debts are done, we have to pay for them, irrespective of however painful it would be. It is our own actions (karmas) in past and present lives that make the situations happen in painful or pleasurable way. The simplest example can be: We drive on the road (with speed limit of 40m/hr) at the speed of 70m/hr; we will be given a speeding ticket. The authority that gave us the ticket has no anger with us. It is simply upholding the law. Saibaba says that "Do not refute or reject any one contemptuously, for without special bond from previous life, no one comes to us." To apply this in our lives we need Sadgurus and Gods grace. "God! Grant me the serenity to accept the things that I cannot change, and courage to change the things I can, and wisdom to know the difference." SANSHAYA HRIDAYA DOURBALYA PAPAKARMA VASANA KSHAYAKARAYA NAMAHA.


Back to Menu
---
Sai devotee Club
With the inspiration received from Shri Sai Baba below site is dedicated to HIM. Let us spread Love, Bhakti and message of Goodwill through this site. Let us REACH OUT to fellow parivar members. Follow this link, http://groups.yahoo.com/group/shridisaibabadevoteeclub/ and join this group. Spread the word about this site and enroll members.
Sai Baba Center in Toronto
Devotees in Toronto invite you all to join in our weekly Satsang every Thursday at the two Locations mentioned below. For more information please call Shammi Chopra 905 887 1752 or Roshan Dastoor Ph: 905 812 8290 or email us at saileela99@yahoo.com
Shirdi Sai Satsang, Minnesota
By the grace of Sadguru Sainath Maharaj, Shirdi Saibaba Prayer Center is established in Minneapolis-St.Paul, of Minnesota. Regular Sai activities in the Twin Cities, MN are being conducted at Shirdi Saibaba Prayer Center, 725 Lake St NE, Apt #139 Hopkins MN. For details, please contact hamaresai@yahoo.com. or call the Prayer Center at 952-938-2983.
Sai Aashish by Sai Swar
Sudhir Dalvi eminent film artiste who is known worldwide for his portrayal as Shri Saibaba Of Shirdi in Manoj Kumar's movie "Shirdi ke Saibaba" and later in Deepak Balraj Vij's "Saibaba" has formed "Sai Ashish" a stage performance group consisting of Suhas Dalvi, Tushar Parte, and Suchitra Parte. Sai Aashish is a performance troupe ideally suited for occasions and festivities on Saibaba of Shirdi. For more details, please visit www.saiswar.com


Back to Menu
---
You may subscribe to receive the newsletter by e-mail.
Back to Menu
---
Back to Menu
---