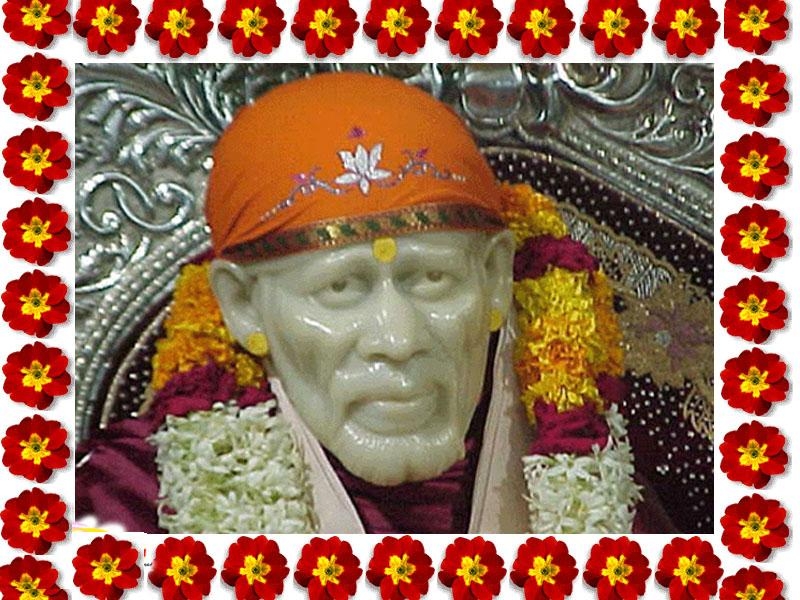 Feature of the week: Discover Sai before its too late
Those who walk in Sai's path,
Without any aid,
To them, I prostrate in reverence;
Those who know Sai's path,
But have to be reminded to walk on it,
To them I say, with faith persevere knowing that difficult is the path;
Those who have just started on Sai's path,
With courage to change their lives,
To them, I salute;
Those who do not yet know of Sai's path,
They are but folks poor in spirit, content with following the worldly paths,
To them I say, discover Sai before its too late.


Back to Menu
---
Contributed Article: My thoughts about Living with Sai
After all, what is the relationship between God and His creation? Lord Krishna and Lord Sainath have indicated that He is not separate from His creation. If we can compare God to Ocean, all His creations representing diverse entities including us are like waves in that mighty ocean. The waves rise from the ocean and fall in the ocean. The waves may be ignorant of the existence of the ocean, in the same way as a child in its mother's womb is oblivious of the very existence of its mother. We can experience our oneness with Him when we get rid of the ignorance ruling our minds and intellect. To get rid of this ignorance and experience the bliss of being one with Him, one should resort to saadhana. Utmost faith together with dedication to Almighty Sai Baba and courageous patience and conviction in His love are the first two attributes for Sadhana. Worship of Lord and realization that He is there in every body and everywhere helps us acquire these qualities, which make us eligible to live with Sai.
Organizing "Satsangs"or devotees fora for collective parayana and bhajans and carrying out activities dear to Baba should be the most important step in our effort to live Sai. This is an important component of Dattatreya cult that has been strongly recommended for spiritual seekers as one can read from Guru-charitra.
A dedicated study of Sai philosophy enables us to appreciate that He is all pervasive and present in every one. This realization brings out the futility and irrelevance of the divisions amongst us based on race, religion, caste, creed and color. Hence, it is the duty of every Sai devotee to spread the messages of universal love through Sai philosophy among the masses of humanity untouched by spiritual thought and thus awaken them. This is no doubt a difficult job, but very dear to Lord Sai Baba. Sai Satsangs should become champions of this cause.
Lord Sainath asked His devotees to acquire Shraddha (faith and dedication) and saburi (patience tempered with courage). A Sai-devotee should have steadfast faith in Him with enormous patience, which will give him the needed courage to face adverse situations in one's life with equanimity. These two attributes are the essential components of Saadhana to acquire the capacity to develop a feeling of gratitude and admiration for Lord Almighty. This in turn will generate love and compassion for the less fortunate, who need help and encouragement.
It may be worthwhile repeating that the practices needed for Saadhana. They are (1) regular and fervent worship of Lord Almighty Sai Baba with devotion and dedication (2) parayana of sacred and spiritual literature viz., Bhagavad-Gita, Saisatcharitra, Guru-charitra, Raamaayana, Bhaagavatam etc., (3) helping the needy and doing charity and (4) being truthful to one's own duties and responsibilities as a parent, spouse, friend, son or daughter, brother or sister, friend or member of society and professional and in all walks of life.
Finally saadhana involving all the above should lead to the total and unconditional surrender of the devotee to Lord Almighty God. The actual meaning of surrender is sarvasya saranaagathi. As Sri Sri Ravishankar puts it, in surrender the head bends and meets the heart. The head that does not bend is stiff, ignorant and has no value. Lord Krishna told Arjuna, "You are very dear to me" and then He told Arjuna that he must surrender. You must assume that you are the most beloved of God and then surrender happens. A person who cannot surrender cannot be self-reliant. Often people think that surrender is a way to escape from responsibility; so, they end up blaming God for all their problems. In fact, surrender is taking total responsibility. How? Pray Him, "Let Thy will prevail". Take full responsibility and pray for His help. From Dwarakamai in Shirdi, Sadguru and Almighty Sainath said, "I feel indebted to him who surrenders himself completely to Me and ever remembers Me. I shall repay his debt by giving him salvation. I am dependent on him who thinks and hungers after Me and who does not eat anything without first offering it to Me. Who loves Me most, always sees Me. He who comes to Me, becomes one with Me, just as a river gets into Sea and becomes merged with it. So, leaving out pride and egoism, you should surrender yourself to Me, Who am seated in your heart".
Lord Sai also said that once the reins are handed over to Sadguru, there is no place for worry absolutely. True, there is no place for worry once we start living with Sai. Lord Krishna told Arjuna, "There is no choice for you and you must surrender. Either you do it now or later." That is the path of love! That is Living with Sai!
(Contributed by Maddipatla V. R. Prasad)


Back to Menu
---
Savita
Dear Sai baba, I really do not know how I should write my innermost feelings, my state of mind. You know everything Baba, nothing is hidden from you. All the time I am praying to you for my daughter's happiness. For me it has taken a lot of courage to send my prayers via this column. It seems you are guiding me to share my faith in you with everyone and as if this is how you are going to listen to my prayers and strengthen my faith in you. Baba we all come to you, ask you one thing or the other. Sometimes it is for us, sometimes for our parents, for siblings and all the time for our children. Whenever I read devotees prayers, I say to myself, "of course Sai listens to everyone's plea and being the merciful He will shower His blessings to everyone". Baba you have bestowed your grace on me and my family at every step of our lives and I have faith, you will listen to my daily prayers and help us to fulfill our duties. I have seen your greatest miracle, when we visited three years ago and you saved us from a terrible car-accident. So may be you are teaching me to have patience before you answer my prayers for my daughter. Baba I lay my head at your lotus feet and accept whatever you have in store. Baba always be with us and forgive me for everything I have done wrong intentionally or unintentionally.
Rajani
I don't know how to express my gratitude towards Sai who is there for me at all times. Whatever I am enjoying today and who the person I am now, all is because of His blessings. Today I experienced another Sai miracle. For the first time I bought myself a diamond nose ring 4 days back and in my mind I have this dilema whether I can wear a diamond or not because I heard that everybody can't wear a diamond. My day starts at 7 am dropping my husband at his work (30 min on freeway) and my son at his school bus stop and I have to reach my work at 8.45, so I am almost on my feet running in the mornings. Today morning at my son's bus stop , one of the other moms pointed that my nose ring is missing. I couldn't believe that I lost it and went home to search for it in possible places. But in my mind I know that it is highly impossible to find such a small thing. I just said to myself that Sai knows what is best for me so I made up my mind that it's gone forever and went to bathroom to wash my hands and to my surprise I found it there in the sink. I was so happy. I realised that normally I start or do new things on Thursdays but this time I wore the nose ring in the shop itself on Saturday and today I almost lost and found back on Thursday. I know this is a small material thing, but we don't know what Baba wants to teach us so I request please can anybody tell me whether I continue to wear it, what Baba wants me to do. Once again I am profoundly grateful to Baba for everything in my life.


Back to Menu
---
Kasim
This is to the devotee who feels he is a sinner in this world, dear Nikil I would like to tell you a story that took place in the time of Saibaba. There was a Sai devotee who does all the rituals daily but he was unable to control his senses, his kamavancha is more so one day he goes to a prostitue's house and knocks the door, the door opens and it is Sai who is standing there at the door telling him , I have opened the doors of heaven for you then why you want to step into this hell .So Nikil Sai is the becon of mercy, he is the creator and destroyer, if you feel you are a sinner then thats the way God wants you to realize. May Lord Sai bless you for your progress. Allaha Malik.
Srinivas
It is near about 5 years from now I started worshiping Baba. I always feel his presence within myself. Whenever I call him from help, he is ever alert to help me. I have completed my MCA in 2002 but still now; I am struggling to get a job in Software Company. Baba has helped me in every matter but in case of job break, I am not able to get his blessings. I have younger sister who is studying her graduation final year she is also staunch devotee of Sai Baba as my parents. We are trying to find alliance for her but till now nothing has been done. My father is a private employee with one year service left so within this one year we have arrange alliance for my sister and I have settle my life with good job so that I can serve my parents who are every thing for me. Even I am without job for past 2.5 years they still support me. So, I pray Baba to shower his blessings on my parents and family members so that our problems get solved. Baba has always helped the devotees who were in need of help and I am sure that is surely going to shower his blessing on my family members and me.
Lal Lachmandas
Sai Maharaj Ki Jai! Baba! Thank you for hearing my prayer. I passed my 12th with high marks and I know it is only because of your blessings. I am planning to do CA and rest everything is left in your hands. I had promised you that I would write all this if I happen to pass and so I am doing as I have promised you. Thank you Baba! Please bless my dad, mother, uncle, brother-in-law and sister.
Vanita Kishan
Dear Baba I thank you for taking the reins of my household in your hands I know you are always with me. Baba I thank you for bring some peace in my house.


Back to Menu
---
Nita
Sai this is my humble request to you my Sai to grant this wonderful job to my husband. Sai as you know all what we are going through please grant me this wish and save my family from misfortune.
Meenakshi
This I my earnest request to you that please arrange for my marriage. Baba I cannot see my ageing parent worry for me any more. I am not doing well in my professional life because of this problem. Sai I know you as jut a merciful god who helps his devotees. Sai where do I go if you did not hear my request.
Mallika P
From past three years I am trying to get pregnant, please bless me Sai, bless me that the treatment I am taking is successful.
Sakshi
Baba, I did not know how to pray and ask for your blessings. I am leaving every decision of mine to you, show me right direction.
Ramani
Please bless me and my family with time as that is running out. You know what I need, please bless me this time, I beg you with all my heart and soul. Sai you are everything to us. Please grant me this request.
Rajyashree
Om Sai Sri Sai Jaya Jaya Sai. I bow to the almighty God Shri Saibaba. Dear Sai baba please bless me with a good teaching job in public schools in Texas. Baba I have teaching experience and so I think I can do a good job with help of your grace. Just today I am starting the process so please be with me all through the process and beg of you that everything should go smoothly. Baba you know what I wish and I have full confidence in you that I will be placed in a good decent job. Baba I need a job immediately. Bow to Sri Sai. Peace be to all.


Back to Menu
---
Quotation of the Week:
"Serving Baba and being in love with him is the ultimate reality. I, therefore do not seek things like 'Samadhi', emancipation, to be yogi, have miracle powers etc. When the most extraordinary God descends on earth as an ordinary person, how can the ordinary persons try to be extraordinary?"-Guruji Sri C.B. Satpathy


Back to Menu
---
Q. How is believing in miracles helpful in one's spiritual growth?


Back to Menu
---
Shirdi Sai Temple of Chicago and Suburbs, Illinois, USA
Shirdi Sai temple is open daily from 7:00 am to 9:00 pm. Daily program includes Kakad Arathi at 7:10 am followed by Abhisek. Madhayana Arathi at 12 noon, Dhoop arathi at 6:00 pm and Shej Arathi at 9:00 pm. Archana, Homams, Sahasranama and sponsored poojas continue in between the Arathis. To request a pooja for yourselves, your friends and family, please call. Devotees can request water (Abhishek Jal) from the Holy bathing of Baba by sending us an email or by phone. Temple is located 25 minutes drive west of Schaumburg on intersection of IL Route 47 and Plank Road in Hampshire, IL. For more information please call 847-931-4058 or send email to maildrop@saibaba.org.
Upcoming Events: Monthly (second sunday of every month) Pooja, Sunday June 12th, Samuhika Satyanarayan Pooja on Poornima day, Wednesday June 22nd.
Shirdi Saibaba Prayer Center, Minnesota, USA
Regular Sai activities in Minneapolis, St.Paul area are being conducted at Shirdi Saibaba Prayer Center, 725 Lake St NE, Apt #139 Hopkins MN. For details, please contact hamaresai@yahoo.com, or call Shirdi Saibaba Prayer Center at 952-938-2983, and to read the monthly newsletter Sai Sandesh, visit www.hamaresai.org.
Shirdi Sai Satsang, Toronto, Canada
Shirdi Sai Baba Sansthan of Canada invites all to join us for Satsang every Thursday 6:30 PM at 147 Winston Castle Drive, Markham, Ont. L6C 2N4. For details on other Activities and Services please call Shammi Chopra at 416-402-8089 or send email to saileela99@yahoo.com
Shirdi Sai Satsang, Bay Area, California
Shirdi Sai Parivaar invites all to join us for Satsang every Thursday 7:30 pm at Odd Fellows Temple, 20589 Homestead Road, Cupertino, CA 95014.For details please call 408-564-6704 or send email to saibandhu@yahoo.com or visit www.ShradhaSaburi.org
Sai Satsang, Vancouver, BC, Canada
Shirdi Sai devotees in Vancouver, Canada invites you to join in for satsang with your family and friends every Thursday 6:30 pm at 8571-118 A Street, Delta, Vancouver BC V4c 6l2. For more information please call Ritu (604) 592 4182 or Panna (604) 501 2687 or email at dritu@hotmail.com.


Back to Menu
---
You may subscribe to receive the newsletter by e-mail.
Back to Menu
---
Back to Menu
---