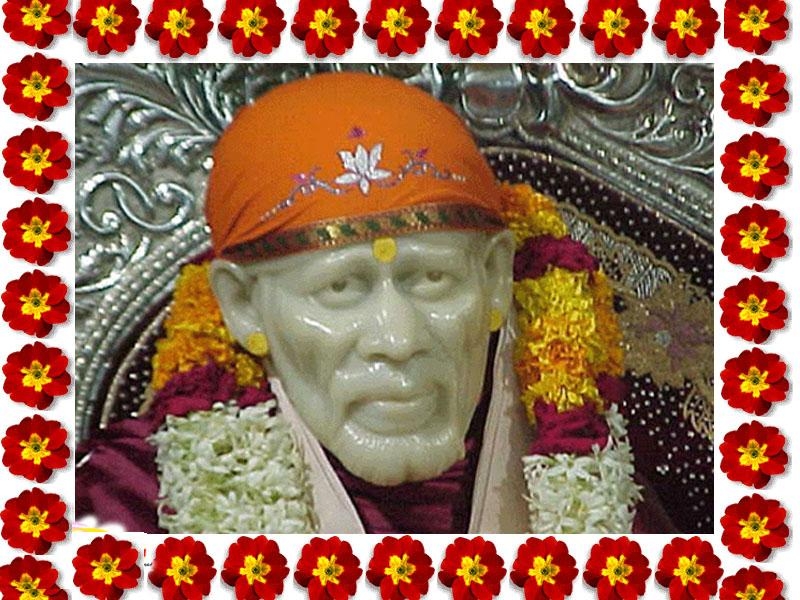 Feature of the week: Child's Welfare is Sai Mother's Care
It was in 1912 that S. B. Dhumal underwent an operation under chloroform. It was risky but before the chloroform began to operate, he saw Baba seated on a chair near his head and he took courage. Baba is there to look after me, he thought. The operation was a perfect success. In some private matters such as when he attended to the health of his brother's wife at Poona, Baba decided for him in a most mysterious way. He started from Nasik to go to Poona, where the sick lady was, with Rs. 80 in his pocket to cover expenses of the journey and contingent expenditure. But as Shirdi being en route, he stopped there. Baba took from him, as dakshina, all the eighty Rupees and kept him for three days with him. Then, when he asked for leave, Baba said, "We will see." After the third day, a telegram came from Poona saying that the lady had died. It is only after this that Baba gave him leave to go. It was clear that Baba could foresee the end of the lady and the uselessness of Dhumal's visit. Anyhow, that was the year in which Baba passed away and Dhumal had the precious opportunity of spending three days with him. After Baba passed away, Dhumal accepted the Revenue Membership of the Dewar State, and was the Karbari of Sarguna State from 1932-33. When he was in the Sarguna State, the Chief of the State visited him and walked into his room, where he was dining at a table. Dhumal then apologized for his inability to leave the table and accord proper reception, but the Chief had walked into the next room from where Dhumal sat, saw Baba's portrait hanging on the wall, came back to the room, and announced at once, "Your pay is increased by Rs. 50." Dhumal had never asked for it. This grant within a fortnight of his appointment, and without any effort on his part, must have been only by Baba's influence.
Mantiche Chitta Lekurache Hita (the child's welfare is the mother's care.)
Dhumal was casting chits after Baba's Mahasamadhi to ascertain Baba's orders. When Baba was in the flesh, he had a colored painted picture of Baba, and as he was passing by Dwarakamayee carrying the picture, Baba asked him, "What is it?" Dhumal said, "You are here." Baba asked for it, took it, kept it for a while, gazed at it in the front and at the back, and returned it to him saying, "Keep it". This was the very thing, which he was anxious to get - a portrait of Baba for worship, blessed by having been in his hands. That is the very picture in which Baba is standing in a pensive or meditative mood, indicative of his words, "Bhav, I had no sleep all night due to thinking of you." Baba gave him many coins, each time taking dakshina of Rs. 2/- and returning it, saying,
Japoon Teva Konala Devunnako Kars Karun Nako (Preserve these carefully. Do not give it to anyone nor spend it)
(Written by: Pujyasri B. V. Narasimha Swamiji, Courtesy: Vasuki Mahal Shri Shirdi Sai Baba Trust, Coimbatore-641025, India)


Back to Menu
---
Contributed Article: The Secret of Shirdi Sai's Benevolence - A Review
Thousands of Sai devotees across the world experience Sadguru's beneficence everyday. Well before I laid my hands on "The Secret of Shirdi Sai's Benevolence" authored by Tatvadarshi Shirdi Sai Anugraha Peetadipathi Rajarshi Sri Ramanananda Swamy, I have been practicing many important edicts laid down in the book. Its original version was written in Telugu by the author in the first quarter of 2003 in a record period of seventeen days. In the words of Rajarshi Sri Ramanananda Swamy, "Sai ordered through two devotees that I should write this book". He cites in the Preface and I quote him, "In 1929, Sai granted this fortune to Hemadpant and made him write Satcharitra, making his life meaningful. Sai granted such a fortune to this servant of His. You will not clearly understand the greatness of this book without my telling an ultimate secret.
Twelve years after Hemadpant, in 1944, Sai granted this fortune to Sri B.V. Narasimha Swami. Thirty six years after him, the fortune favored Sri Ekkirala Bharadwaja. Twelve years after him, this fortune is now granted by Sai to this servant. Sai informed this world about Himself, His philosophy, teachings, miracles and disciples in a phased manner. If you observe the books of Hemadpant, Narasimha Swami, Bharadwaja and Ramanananda, you will understand that the hand of the same person will appear to the Sadhakas and lead them to the depth of philosophy gradually."
Significantly, Rajarshi Sri Ramanananda Swamy lays emphasis on the fact that many philosophical secrets are revealed in his book for "easy understanding" with a record of his own uncanny experiences because "the miracles of Sai are evergreen. Sai miracles continue to take place even today in the lives of His devotees, just like when He was available with His mortal body." The devotees' experiences of Sai miracles are also narrated in the book. Essentially, Rajarshi Sri Ramanananda Swamy stresses that a devotee should eschew hedonistic indulgences and keeps his mind and heart clean and focus his worship on Sai Baba only. In this context, it is relevant to quote here verse 225 of Chapter 33 from Sri Satcharitra, "To a devotee with a single-minded devotion to Him, Sai Samarth will grant whatever he desires to have, whether it be in this world or the next." The book is a compendium of anecdotes of Sai devotees and Rajarshi Sri Ramanananda Swamy's thoughts, under the divine guidance of Sadguru. There are some theistic and spiritual matters which many devotees need to know from the book. For instance, one Chapter dwells on the divine and menial powers which a devotee normally fails to distinguish in a self-styled saint. It educates the reader about these saints and warns him to stay away from such phony saints. Another Chapter deals with the practitioners of focused worship of Sai Baba and diffused (rather confused) worship of multifarious deities. He says the essence of Sai Baba's teachings is when a devotee deems Sai Baba as his Guru and believes only in Sai, he need not see any other sage. Even if the devotee has a darshan of the sage, he should abstain from asking the sage any question about anything. If he has a question, he should ask Sai directly and he would get an answer. He has also suggested the methods for achieving it.
In short, the book is enlightening and spiritually stimulating, despite countless orthographic and syntactic deficiencies that have been hastily overlooked in the translated version in English. Nevertheless, the contents are comprehensible and the link of sentences is maintained. "The Secret of Shirdi Sai's Benevolence" is available at Shirdi Sai Anugraha Peetam, Vishakhapatnam. One can also access their website, www.shirdisaianugraphapeetam.com for more information. Verse 114 under Chapter 44 of Sai Satcharitra aptly summarizes the contents of the book, "By worshipping sincerely and remembering Him with faith and devotion, all the devotees will get the experience. And they will realize His all pervasiveness."
(Contributed by Srinivasan)


Back to Menu
---
Rajalakshmi
Myself and my husband left for Shirdi from Bangalore on February 20th 2007. We went by Karnataka express train. At the time of booking the ticket, 15th Jan 2007, the status was WL 16 and 17. At the time of boarding the train the status came to WL 1 and 2. I prayed Baba to get a berth. I inquired at the office and they asked me to go to S9 compartment and check with the concerned compartment officer. I inquired and within five minutes he gave me two berths and told that we can use the berth till Wadi station only. Wadi station will come by 5:30 am. We went to sleep by 9 pm and were awakened by some people at Wadi. We vacated the berths and to our surprise we found two more berths not occupied by anybody and utilized the same. While returning also we had RAC11 and 12. We boarded in Ahmednagar by 7 pm and sat on side lower seat. By 9 pm I thought why Baba has not allotted berths. Within five minutes the officer called me and told that we got separate berths. Although this looks like small experience it was considered big to us because we cannot travel by standing or sitting in some others place. We had a good darshan at Shirdi for three days. We bow Baba for having helped us to make the trip a successful and unforgettable one.
Jyoti
When I was 15 years old I went to Ahmedabad, Khadia Sai Temple. I remember waiting outside the entrance of the temple and I felt Baba was so real, sitting there. Then throughout my college years, I used to often visit the temple. More that 30 years later, when I went to India recently the priest was doing the morning puja, as I was standing with my daughter, he approached me. I remembered the priest, from my young age, but I had never spoken to him. What Baba showed me is that he is always watching us, here is Baba's miracle. As the priest approached me, he said to me, I saw you after a long time; you used to come here when you were in college, where have you been? I was so shocked because he had not known me, but how did he recognize me? After introducing myself and my daughter he allowed me and my daughter to go up to Baba bow to his feet and take Baba's blessings. This is a miracle not only because the priest recognized me, but also because when I pray to Baba, I always see him in my mind sitting in the Kadia temple. This was a confirmation from Baba, that He is still ever alive and always with us. Baba please help and always guide my daughter, so that she can become a good doctor. I pray to Baba, to protect me and my family, always bless us and keep your faith in us. Bow to Shree Sai, peace be to all.


Back to Menu
---
Rekha
I want to tell Sai devotees one miracle of Baba. My brother was born in 1979. At the time of his birth doctors told us that he is suffering from acute thyroid and day by day he was getting weak. My mother regularly prayed to Baba for his health. One day my brother stopped crying, moving and became still, only some white liquid was coming from his mouth. Doctors said there are no chances of recovery. We all lost hope and started crying. Suddenly my grand mother took my brother on her lap and stood in front of Baba's idol (which is from Shirdi) and said Baba, You gave him, now You save him, if You are listening to us and then she closed her eyes. After ten minutes my brother started crying and moving. Doctors checked him and said now he is well. Now my brother is well and takes thyroid tablet regularly. Now he is married and has a cute daughter. Baba is still with us.
Rama
It was a really tense situation for me. My mom got gastric problems. Doctor asked her to go for a biopsy to see if it's an intestine cancer. Everyone was tensed till the report came. I asked my mom to start reading Sai Satcharitra and don't stop it no matter what. She did so. I prayed to Baba. Saibaba did the miracle, report was good and doctor said you came at right time for treatment. Thankyou Saibaba.
Padma
Thank you Baba for listening my prayer very soon with in two weeks to get a ride for my son from his school to way back to home as we are worried about him a lot after we moved. And thank you very much for showering your blessings on us in each and every step on our life.
Suman
My wife was suffering from a reproductive disorder due to which some doctors even gave up hope for us to become parents ever. We consulted a good doctor who proposed a treatment due to which she conceived but very soon it resulted in a misscarriage. This left my entire family shattered. I went to the nearest Sai temple and with tears in my eyes - I prayed to Baba to just help us overcome this misery. I also resolved from that day that I would try and ensure to maintain my faith in my guru. And then the miracle happened, just after 3 weeks we had good news. Though the 9 months journey was not easy for us as a family as at every stage there were complications but I kept repeating to myself "Shradda and Saburi" and thus we completed the 9 months. Baba blessed us with a child 3 months back. Thanks a lot a Baba.
Sailaja
Thank you Baba for blessing us with a pregnancy and help me throughout the pregnancy.
Ravi
Whatever words Sai Maharaj uttered were always the Truth and nothing but the Truth. Very long before Shirdi became a major pilgrimage centre, Sai Maharaj had in His youth mentioned that one day people would flock to Shirdi like ants, and so it is! In fact, the larger Truth is that people are flocking not only to Shirdi for Sai Maharaj's darshan, but to His temple in every village, town, city or country. The Truth is that He resides in our hearts. I am grateful to consider myself one of the ants who love to have His darshan at all times.
Suresh
Baba thanks a million for granting my wife's visa after quite a long time. Sorry for the delay writing this. Please Baba be with us all the time, shower Your blessings on us and guide us through a right path. You know we wouldn't have survived this long if You had not blessed us. Help us to help the poor and needy.


Back to Menu
---
Muralidhar
Baba please help my friend's wife who is going through tremendous agony and pain because of disease. She is been suffering for so many years.
Suma
Sai maa, it is one year two months since I came to You. You have given me everything that I have asked for and without You I would not have done all these. Sai now I have one last hurdle to jump, for the residency program in USA. Baba please help me get it. Only Your love and blessing can get me that. I will post that along with wonderful experiences soon.
Malini
Shri Sai Baba, I am going through a lot of financial problems in my life. We had purchased our home, where we live now (my husband, my two children and myself) with lots of difficulties. But we are not able to live happily because of the debt burden on our shoulders. My husband is also having problems in getting his salary properly from his employer. Our debt burden is simply increasing. Shri Sai, I beg of you, please put all our miseries to an end. Please bring a miracle in my life wherein I will get sufficient money to pay of all our outstanding dues. Once we are relieved of this debts we will be able to live our life happily. Please Sai, have mercy on us. Once we are able to come out of this situation, I will send a testimony to the Prayers Club of Sairam. I pray that all the four of us live happily is this home where we are living now without any tensions and worries always praising Lord Sai.
Sai devotee
Thankyou very much for sending Sai Vichaar newsletter. It always inspires me and feel love and peace. Baba always be with us and help us choose the right path and give courage to face any problem in life. Baba bless us to become parents and be with us. Bow to Shri Sai. Peace be to all.
Juhy
Baba, I am married for past 8 years and have suffered one missed abortion. Baba, I really want a beautiful and blessed baby in my life. Please Baba, I came twice to visit You but I was unfortunate to miss it both time. I am scared Baba. My hopes are dying slowly but I trust Your chamatkar. Baba, please meri bhi jhloi bhar deejiye. Please Baba, mujhse koi galti ho gai ho tou mujhe maaf kar deejiye. I love You, Baba. Aap sab jaante hai, mujh par apni kripa keejiye Baba. Aapko mera charansparsh and sat sat pranam.
Sai devotee
Baba, pranam at Your feets. Please listen to my prayers. Help us to end this sufferings soon. Please Baba take care of everything. We need Your help in every step. Help us Deva to make things happen in our favour. Sharnagat bhaktawatsal.
Sudha
I am happy on receiving this mail. Please offer Baba's blessings on me. Recently, I was suffering from fever and it made my whole body weak. I am unable to concentrate. My prayers to Baba that I live healthy forever without any sufferings. I thankyou for sending this Sai Vichaar which motivate me to read and understand the Sai devotees experiences towards Baba.
Sai devotee
My namaskarams to You Oh kind Sai. Please let Raj get a good project of his choice. May he and his wife be blessed with a daughter. Kindly shower Your blessings on their son and keep them happy always.
Preeti
You know what I am going through, I have submitted myself to You and I know You have always heard me during my most turbulent times and I am confident that I will sail through this also with Your presence in my life. God please bless with Your esteemed Kripa.


Back to Menu
---
Quotation of the Week:


"The Guru and man's inner reality are really one and work together towards the same goal - the redemption and salvation of the mind. They cannot fail. Out of very boulders that obstruct them, they build their bridges".-Sri Nisargadatta Maharaj


Back to Menu
---
Q. Does Baba get angry if we keep praying to Him to fulfill our desires?


Back to Menu
---
Sri Ramanavami celebrations in Chicago, USA
Sri Ramanavami and Urs festival celebrations are the first major celebration of the year for Shirdi Sai devotees. The tradition started in 1910 and continues each year. Shirdi Sai temple, Chicago will be celebrating the event for three days starting from Saturday, March 24th to Monday, March 26th. The program comprises of Aartis, Maha Abhishek, Homam, Palki procession, Satcharitra parayan, bhajans and much more. For complete details please visit http://www.saibaba.us/index.html or call 847-931-4058.
Sai Palki program on Mar 24, 2007 at Baba temple in Hampshire, IL
On March 24, 2007, Sai Palki will depart Naperville, IL in the morning to visit devotees houses to the accompaniment of music and dance by devotees. Please feel free to contact Hariprasad Valada at 630-424-1800 ext 314(W), 630-697-2095 (cell) or email hariv@indusa.com for more details.
Shri Saibaba Mandir, Minneapolis, Minnesota
Saibaba activities in Minneapolis were conducted at Shirdi Saibaba Prayer center since the year 2002. Now, with the grace and blessings of Baba and the support of devotees, a new Saibaba Mandir has begun to function at 1835 Polk St NE, Minneapolis from July 11th 2006. Please visit www.hamaresai.org for all details.
Sri Shirdi Sai Baba Temple of Dallas/Fort Worth, Texas
Sri Shirdi Sai Baba Temple of DFW Metroplex is located at 2109 West Parker (Parker Plaza), Suite 212, Plano, TX 75023. For temple hours and activities please call the temple office at 469-467-3388 or visit the website www.shirdisaidallas.org.
Shirdi Sai Center in Bay Area, CA
Shirdi Sai Center is located 897-B East Kifer Rd, Sunnyvale, CA 94086. For more information please call 408-705-7904 or 408-564-6704 or send email to saibandhu@yahoo.com. You can also visit our website is www.Shirdisaiparivaar.org.
Shirdi Saibaba temple, Los Angeles, CA
Devotees in Los Angeles area are informed about Sri Shirdi Saibaba temple in Los Angeles area. The temple is located at - 144 South 4th Street, Montebello, CA 90640. For more information please call Krishna Samantula at 949-679-9938 or visit www.shirdisaila.org.
Saibaba Temple, Columbus, Ohio
Devotees in Columbus and surrounding Ohio locations area are informed about Sri Shirdi Saibaba temple in Metro Columbus area. The temple is located in a leasing space at 7674 Sawmill Rd, Dublin, OH 43016. Please attend daily Aaratis and Thursday bhajans. For more information please call Panditjee at 614-799-8411 or visit www.saibaba.cc.
Sri Ramnavami celebrations in Sydney, Australia
Shree Shirdi Sai Mandir invites you to with family and friends to join Shree Ram Navami celebrations on March 23rd, 26th and 27th at 420 Liverpool Road, Strathfield South, NSW 2136, Australia. For detailed programme or Sansthan's activities, please contact Sansthan Info-Line at 0500 524 724.


Back to Menu
---
You may subscribe to receive the newsletter by e-mail.
Back to Menu
---
Back to Menu
---