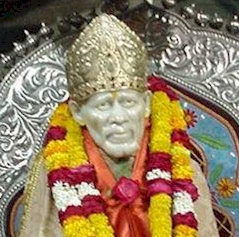 Feature of the week:
Fruits of Action-II
A few weeks ago, there was a mention of seemingly paradoxical spiritual entities of fruits of action and the detachment. What are the actions that would result in the detachment from the cycle of action and acquisition? Surrender to the supreme, in thoughts, words and actions!. The "progression" in one's spiritual path is in a way the "regression" that culminates in the complete annihilation of all acquisitions. Passive it may sound, it's the task that can not be easily accomplished. Let us for a moment introspect one such stage everyone in the spiritual path crosses:
When one is hurt very badly or is going through a low time in one's life, the thoughts naturally seek Divine help. The Divine, being perceived as one with all the power in this universe, is prayed to seek such material benefits as to overcome the rough times or fulfill the need at the moment. The prayers continue with fervor, enthusiasm and faith till the object is either achieved or the thought for achieving such object is erased by the Divine's grace. After having achieved the result, the mind plays its game! The very act of seeking Divine help when in need is quickly forgotten and one gets absorbed back into the worldly matters. The pursuit becomes infrequent and slowly the mind is pulled back into the illusion of "I" and "ME". Says Sai Baba; "Everyone comes to me for material gains. Rare is a person who comes for really what I want to give. My treasure cove is full of invaluable gems but none is interested in real treasure!"
What is Baba referring to? The great Soul Himself answers this as "It is by the merits of past births that one gets a human body. The human body is gotten to recognize the work of GOD, love GOD and attain GOD! One who is not doing this will suffer the consequences of their Actions". Does this mean that one leaves everything and just chant God's name all through life? No again Baba answers this question "Karma or Action is an attribute of the Human Body. One can not escape it. By doing Action without aspiring for its fruits is how one will escape from the clutches of Illusion. One who has negated the effects of Karma and attained the other requisites realizes GOD. The path to GOD realization is very difficult and full of thorns but if one seeks the Guru's grace, the path becomes easy".

Back to Menu
---
Contributed Article:Worship In Islam
Islam is the name of the religion the root of which is "Silm" and "Salam" which means peace. "Salam" may also mean greeting one another with peace. It means more than that: submission to the One God, and to live in peace with the Creator, within one's self, with other people and with the environment. Thus, Islam is a total system of living. A Muslim is supposed to live in peace and harmony with all these segments; hence, a Muslim is any person anywhere in the world whose obedience, allegiance, and loyalty are to God, the Lord of the Universe.
The followers of Islam are called Muslims. Muslims are not to be confused with Arabs. Muslims may be Arabs, Turks, Persians, Indians, Pakistanis, Malaysians, Indonesians, Europeans, Africans, Americans, Chinese, or other nationalities. An Arab could be a Muslim, a Christian, a Jew or an atheist. Any person who adopts the Arabic language is called an Arab. However, the language of the Qur'an (the Holy Book of Islam) is Arabic. Muslims all over the world try to learn Arabic so that they may be able to read the Qur'an and understand its meaning. They pray in the language of the Qur'an, namely Arabic. Supplications to God could be in any language. While there are one billion Muslims in the world there are about 200 million Arabs. Among them, approximately ten percent are not Muslims. Thus Arab Muslims constitute only about twenty percent of the Muslim population of the world.
Allah is the name of the One and Only God. Allah has ninety-nine beautiful names, such as: The Gracious, The Merciful, The Beneficent, The Creator, The All-Knowing, The All-Wise, The Lord of the Universe, The First, The Last, and others. He is the Creator of all human beings. He is the God for the Christians, the Jews, the Muslims, the Buddhists, the Hindus, the atheists, and others. Muslims worship God whose name is Allah. They put their trust in Him and they seek His help and His guidance.
(to be continued)

Back to Menu
---
Rama Krishna Gunturu
I was not so particularly inclined to Shirdi Baba from the beginning. But I always believed in the God. I would like to my experience.
I had a pretty decent life and position in the society. For various reasons, I was jobless at one point of time when I was 41. I started again as a financial consultant. No income. I lost my morale too It was on one hot summer noon, I was roaming on the road after meeting a Bank Manager behalf of a client. There was disappointment. I was thirsty. I wanted to buy a cool drink but I realized that I did not have money. I had just about two rupees. I purchased a packet of butter milk and was quenching my thirst.
I heard a song was being played on Sai Baba. Now I don't remember where from it was, whether from a radio I suddenly felt like going to Shirdi and touching the Baba's Samadhi. Then I told to myself like this. When I had money I was not serious to visit Shirdi. Now I don't have money and planning if I cant visit now. But, if I get money, one of the first things I do is visiting Shirdi.
I went home and that evening one friend called me up and said, "RamaKrishna, don't you want your money back". I was surprised about this. To this friend I had lent Rs.2000 when I was in good financial period. After my situation went bad, I did not meet any of my old friends, and I forgot that I lent him. He said, "Rama Krishna, I would like to return your money. You can come and take it from me, or I will return it after ten days. I am right now going on tour". I immediately went to his home, got the money, and purchased a bus ticket for Shirdi for the next available Bus on the following evening.
I believe that Baba had given me a call to visit him. That did not stop there. I had many many experiences of his grace. However, this is the very beginning of my experiences I wanted to share with you all. Aum Sai Ram.


Back to Menu
---
A Sai Devotee
Saibaba's miracles in my life are too many to enumerate here.His unconditional love and kindness have sailed me through life's most difficult times.Sai's Satcharitra contains the ultimate truth,I wish that all devotees would read at least a paragraph of this book everyday for their mental and spiritual benefit.
Anand Ram Mauni, Hayward, California
I am seeking from you any and all ways to stay in Contact with Baba. I would like to start a business and am seeking Babas advice. I have lost also someone very close to me and am asking the lord to give me peace or to bring them back to me. Is there any way that you can help me? Sai Ram
Havovi Medora, New Jersey
Last week I had the pleasure and fortune to go visit relatives in Houston. While I was there my cousin Arni took me to a Sai Mandir on Thursday. A n area which made me feel I was right back in Bombay a feeling of comfort and contentment. The mandir was in a large area and is run by a sweet old lady who wants to be called "Mummy" rather affectionate and appropriate as she is a mum to all us devotees of Sai and provides what mothers do, love and care. Upon entering the mandir one is faced with a lovely statue of Baba he sits there smiling at all who come in and what I did like about this particular mandir was that just about all religions were represented by idols who stood all around Sai Baba. As Sai aways said when asked who he was "I AM EVERYONE AND EVERYTHING" People trickled in after a hard days work people from all walks of life and they sang various bhajans supplied to them in folders. We could all participate as each one had his own folder. Some persons with lovely voices sang the solos and we (some all out of tune) sang along. But Sai was there smiling at all that was going on and finally we did the evening AArti which has never failed to bring tears to my eyes or make my hair stand on end. Many had brought prasad and everyone was to partake . "Mummy" affectionately called upon all of us to eat before we left. I was a wonderful experience and I thank this lady for has love and dedication by bringing this lovely Sai Mandir to all Sai devotees in Houston. As you can see almost all major cities of the US have a Sai Mandir. He is always there listening, watching and most of all caring for all who approach him. Miracles that he has performed would go into volumes. So I leave you now with that wonderous sight of Sai sitting in all his glory In Houston Texas!!
Praseeda, US
Dear sai, I am devoted to you and feel that you are my only god. I want my husband also be trusting you so that he will also feel good. He has lot tensions from when we came to US. God today I overslept and did not perform puja well forgive me I shall have a bath now and pray to you again...please forgive me Lord Sai for this mistake and let such things not happen again.
Alex and Helen Fazio
We have been seeing Sai Baba's picture in many Indian shops and have read about him on your site. May we ask one question? In many of the pictures of Sai Baba, he is accompanied by a small brownish yellow dog. Why does he have the dog and what is the story, please?


Back to Menu
---
Shri Shirdi Sai Baba Mandir,39 Jatin Das Road,Calcutta-700029,India
This Institution was started in the year 1977 by Smt.Sarojini Devarajulu, an ardant devotee of Lord Sainath and Pujyasri Narasimhaswamiji. All important functions like, Sri Rama Navami,Krishna Jayanthi,Guru Poonima and Mahasamadhi of Lord Sainath are celebrated in a gand manner. Narayana seva is being done periodically. Recently Maha Sivarathri function was celebrated in grand manner. Sri K. Ramaswamy,Presidenmt,All India Sai Samaj(Regd),Mylapore,Chennai participated in the function and performed abhisekam to Lord Siva's idol with lot of Panchamirtam,milk,curd,honey,Rose water, Sandal and Viboothi on 21st Feb.2001. Very large number of devotees witnessed the puja on Shivarathri night and obtained prasad.


Back to Menu
---
Satya
Dear Sai devotees, I am a Sai devotee, I am in a big Trauma right now. My sister who just got married in 2000 October is diagnosed with Esophageal Cancer in advanced stage. She is just 27 years. Medically there is very very little hope. She to is a Sai devotee too. I see, read and hear so many unbelievable miracles happening to people with dreadful diseases especially with cancers and tumors, saying that they are completely cured. My thinking process nowadays goes this way, worrying me a lot, why can't such a miracle happen, to my sister in front of my eyes. I am very depressed. Please I beg you all to pray for her. Her name is Padma. Every day of her life counts now. Something has to happen very soon. I request people who suffered similarly to come forward and suggest something. I want to hear from people who are blessed and have experienced such miracles by grace of Saibaba.
Shyamala
Om Namo Sri Sairam. One of my Colleagues Son is suffering from some chronic illness which is life threatening. He has to undergo some 5-6 operations to be cured.He is undergoing one operation in the next few days. He is a very small kid maybe 3 years old. Please pray for his early recovery and the blessings of Sai so that he can play and be like the rest of the kids.Please pray for his parents to have the courage and calmness to face the situation. May Sai Bless us all. Om Sai Sri Sai Jaya Jaya Sai.


Back to Menu
---
"Baba not infrequently warned those of whom he had taken spiritual charge, not to give way to anger, lust, hatred, envy, jealousy, which are the grossest forms in which desire and interest exhibit themselves. when these come, they strike like a whirlwind against the soul and carry it clean off its feet. If, however, just little time be allowed before these gales strengthen, the individual's power of realizing his own nature, desire, duties and interests as stressed by the guru will grow stronger and there will be no forgetful and destruction of the soul therefrom" - Sri BV Narasimhaswami ji in Glimpses of Saibaba

Back to Menu
---
Q."Q."Why is it Baba bemoan the loss of the brick?""?
A. (by Muthender Velishala)
If we closely observe the words of SAI BABA when the brick was broken by boy; "IT IS NOT THE BRICK, BUT MYFATE THAT HAS BEEN BROKEN INTO PIECES. IT WAS MY LIFE-LONG COMPANION, WITH IT I ALWAYS MEDIATED ON THE SELF, IT WAS AS DEAR TO ME AS MY LIFE, IT HAS LEFT ME TODAY" they resemble very much the expressions of common people who weeps for the loss of their belongings and their loved ones. While explaining this bemon of SAI BABA, Sri Hemadpant rightly said that Saints like SAIBABA incarnate in this world with the express mission of saving the poor helpless people, and when they embody themselves and mix and act with the people, they act like them i.e. outwardly they laugh, play and cry like all other people, but inwards they are wide awake to their duties and mission.


Back to Menu
---
---
You may subscribe to receive the newsletter by e-mail.
Back to Menu